When it comes to the supply chain, a warehouse management system (WMS) is the heart of it all. The application manages the operations of a warehouse or distribution center for the management of inbound, outbound, and inventory management processes. It's what keeps tabs on finished goods and raw materials throughout their entire journey within a facility – from the moment inventory is received and potentially weighed, through when it gets quality control tested and added to production, finished and stored, and shipped out the door.
Users will find that this level of control and insight helps to reduce operational costs on multiple levels. First, inventory variances are cut down along with order fulfillment times impacting the amount of space needed for storing inventory and time period for which it needs to be held. Businesses can also say "good-bye" to spreadsheets and clipboards because warehouse management system functions automate unnecessary, labor-intensive procedures to ensure the most updated and accurate data is recorded in the software.
Noah Wallace of Silver Spring Foods talks about the reduction in inventory variance that the company experienced after implementing Deacom's ERP software.
What a warehouse management system should do:
Provide Access to Real-Time Data – In today's world of instant access to information, we don't have time to waste on manual workarounds. With so many other aspects of operations dependent on the WMS software, the tool needs to provide inventory visibility. The system should be able to show what inventory is available and on order, where inventory is, what the upcoming demand looks like, who was the last person to move it, and even which items are on QC hold. All these details should be accessible at the click of a button.
Implement Strict Process Controls – Create scalable and repeatable processes to enable full control over each warehouse transaction. System administrators should be able to set security controls for user groups (or roles) which can be easily configured as needed. By using modern barcode scanning practices, they can ensure the warehouse team does not ship lots that are on QC hold to customers.
Include Raw Production Weigh Up Capability – For manufacturers who require it, raw material weigh-up functionality builds automation into the staging and weighing process of raw materials before production. The material can then be palletized into master lots with serialized labeling so the movement and shipment of the mixed product pallet can be done with a single scan. It creates an incredible level of process control with real-time data accessibility directly from within the WMS software.
Leverage Barcodes to Simplify Transaction Processing – In recent years, one of the biggest game changers in the warehouse management system world has been the introduction of GS1-128 barcodes. They capture multiple pieces of information about a lot within a single barcode, including the part number, lot number, quantity, catch weight, expiration date, and much more. When compared to the old UPC or code 39 (3 of 9) barcodes, this new type of barcode captures more information at the time of lot creation and validates those details at the time of shipment.

Offer Picking Solutions – The most common, yet inefficient, picking technique is piece picking. To better organize the movement of order pickers throughout the warehouse, modern order picking strategies are being implemented into WMS systems such as zone picking or snake picking. The technology is designed to improve not only the process of picking orders but also the data accuracy and reporting within the ERP system, including that of perpetual inventory.
Simplify Physical Inventory – A lot of manufacturers and distributors cringe when they hear the phrase "Physical Inventory Count." However, a really strong warehouse management system will simplify these often-complex procedures. For example, some have implemented cycle counting strategies which will drastically change the way you look at physical inventory. Rather than conducting it one time per year, cycle counting is a series of audits on smaller groups of inventory within the warehouse. This phased approach provides a higher level of record accuracy saving both time and risk.
What makes Deacom's WMS different?
Deacom's warehouse management system is a native element of the core ERP platform. All data and processes live within the centralized platform giving all stakeholders access to information with a single login. It's a seamless and quick process for conducting everything from the simple report to more complicated Material Requirements Planning (MRP).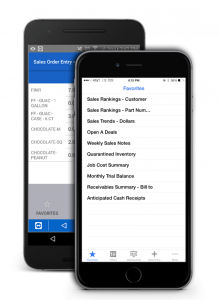 When using DEACOM via a smartphone or tablet (available for Apple and Android), users are able to view warehouse dashboards in real-time, drill down into reports, and make changes on the fly, no matter where they are or what time it is. It's an unmatched level of ERP accessibility right in the palm of your hand.
What does the future of warehouse management have in store for us?
Over the next few years, mobile technology will really start picking up speed in regard to day-to-day operations of manufacturing and distribution businesses. Updated barcode scanners and durable, production-proof cases are finally emerging which will allow software developers to take advantage of more cost-effective and user-friendly hardware options.
Not only will this movement impact business performance, but it will also affect recruitment for manufacturers and distributors. Modernization of operations will play a critical role in attracting and retaining the next generation of workers who have grown up "connected" to information.
When it is all said and done, your end goal should be to deliver great customer service because your reputation depends on it. Are you confident in your warehouse management system's ability to help you track, react, and deliver quality goods to your customers in a timely manner?  
If you are unsure, perhaps it is time to find out how Deacom's Warehouse Management System can help!