…And how to do it in a matter of hours
By now, you are probably very familiar with the new design of nutrition fact labels introduced by the FDA. While the goal is to make it easier for consumers to make informed and healthier food choices, many manufacturers are concerned about the challenges they will face when rolling out these changes.
Updating the label for the entire product line can be achievable in a matter of hours and without leaving your ERP system. In this article, I'll break down the changes to the nutrition fact labels and how you can get started with the updates.
What changed?
Look and Feel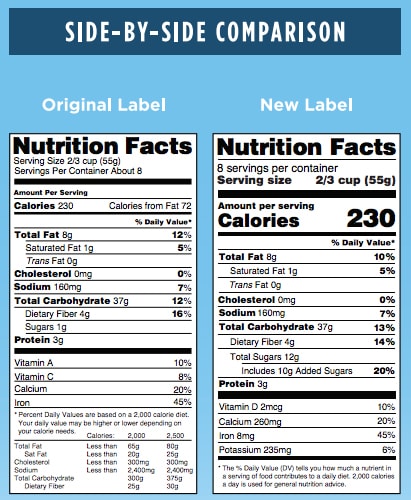 Font – Some changes are simple alterations to the basic look of the label. This includes font changes to:

Servings Per Container (larger font)
Calories (bold and larger font)
Serving Size (bold and larger font)

More Data – Other changes to the design include identifying the actual amount and percent Daily Value of Vitamin D, Calcium, Iron, and Potassium.
Footnote – The footnote language has also been updated to better explain what percent Daily Value means. It will now read: "*The % Daily Value tells you how much a nutrient in a serving of food contributes to a daily diet. 2,000 calories a day is used for general nutrition advice."
New Data
To align with some of the findings in recent scientific research, the FDA identified the below additions to help consumers identify healthier options.
Added Sugars – Manufacturers must disclose the amount of "Added Sugars" in grams and as percent Daily Value.
Vitamins – Vitamin D, Potassium, Calcium, and Iron are all required on the new label. While Vitamins A and C are no longer required, they can still be included on a voluntary basis.
Calories from Fat – Calories from Fat are no longer necessary as research indicates that the type of fat (Saturated Fat and Trans Fat) are more important.
Daily Value Updates – Sodium, Dietary Fiber, and Vitamin D daily values are all being updated.
Serving and Packaging Requirements
This debate has been around for a long time. What some companies consider to be the appropriate serving size, is rarely what people actually consume. Taking this into consideration, the FDA has changed some of the requirements surrounding serving size and package size communicated on nutrition fact labels.
Serving Size – Since the last time serving size requirements were released, the average amount of product that people are eating or drinking has increased. For example, back then, the reference for soda was 8 ounces and today people typical consume 12 ounces. Therefore, the new serving size details will be determined by how much people are eating, not what they should be eating.
Package Size – Those packaged goods that are between one and two servings will be required to label the product as a single serving. Examples include a 15-ounce can of soup or 20-ounce bottle of soda where people typically consume it all in one sitting.
Dual Column Labels – If a packaged product can either be consumed in one or multiple sittings (or had been between two and three servings), dual column labels are required. These will indicate both "per serving" and "per package" nutritional facts. The FDA uses a 24-ounce bottle of soda or a pint of ice cream as examples for such products.
How to get started
Before you start making any changes to these labels, make a copy of the current version and adjust the design as a separate label based on the new guidelines. Within DEACOM, this would require the creation of a new part form. By creating and working with a copy, production and sales will be able to continue printing the current label while necessary changes are performed to a new version.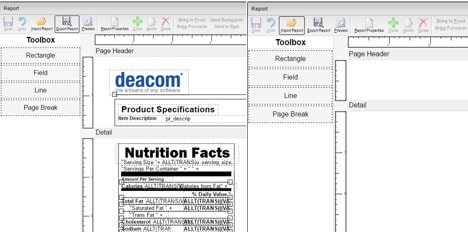 DEACOM ERP users can easily clone any field of the part form to add the newly required sections for Added Sugars, Vitamin D, and Potassium to the template.  When editing the field, updates can be made to the font style, font size, display the font in bold, and alter the expression if needed.
The changes to daily and nutritional values may seem most daunting to update but they are actually quite simple. We highly suggest taking advantage of system constants to do this. Setting these details to align with the new FDA requirements will ensure it is rolled out across the entire platform. This is particularly useful to ensure that the expressions used to identify these values are consistent and applying the most updated information to nutrition fact labels.
Once the new version is finalized, manufacturers are able to scale the label to different sizes rather than recreating the entirely new label as many other tools require.
Find out more about how DEACOM ERP can help food and beverage manufacturers.