The Artisan Spotlight is a chance to showcase some of Deacom's most impactful team members and give you a glimpse into who they are. Employee #7 and Deacom's honorary "Road Warrior," Lead Product Consultant, Amanda Goodman, takes the spotlight this time around.
As an industry expert – both in process manufacturing and ERP software – Amanda has an impressive ability to dive deep into a manufacturing business and identify strategic solutions through DEACOM that tackle their critical business issues. No project is too large or complex for Amanda who rises to every challenge with tenacity and endless energy. She is one of the most knowledgeable "go-to" resources and a true asset to the Deacom team.
Most of our customers have had the opportunity to work with Amanda over the years or have met her during the annual User Conference. Those who have not, here is a little insight into this Artisan…
 Describe your role at Deacom?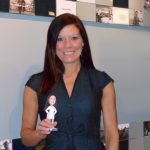 My current role at Deacom is Lead Product Consultant, but I have been involved in many aspects of the sales process throughout my seven years with the company. Today, my focus is working closely with the Senior Sales Executives during the sales process to gain a comprehensive understanding of the business requirements of potential customers. Using this insight, I present the value of the DEACOM platform in providing process control to answer those business requirements. I also work closely with the sales team to complete RFP's, work tradeshows, and maintain relationships with consultants.
When and how did you come to work at Deacom?
I was working for a competitor and often found myself going head-to-head with Deacom so I became very familiar with the software and company. Just over seven years ago, our Founder and CEO, Jay Deakins, reached out to me to discuss an opportunity to work at Deacom. I took the leap of faith and believe it to be one of the best decisions I have made thus far in my career.
What do you enjoy most about working at Deacom? Why?
I enjoy the people I work with, but also the fact that the projects I am involved in present different challenges week after week. By spending so much time with different manufacturers and seeing them in action, I am able to learn about how different products are made and the process of producing them.
 What has been your favorite project at Deacom thus far? Why?
There is not a specific project that comes to mind that would be my favorite. What I enjoy most about projects is that each one is different in its own way, giving me the ability to handle new challenges all the time.  I like when I can evolve with my career and with my role in the projects. I have that capability daily.
What excites you most about the technology industry?
I am actually more excited about the industries we sell into and how Deacom's technology provides a value to our customers in those industries. Because DEACOM is continuously evolving, it excites me that I can present a solution that can really improve the operations of manufacturers in those industries.
What do you like to do when you're not at the office?
This is a little hard to answer, as my office is in my house. I spend a large part of my work week on the road presenting to prospects and when I am not traveling, I work out of my home office in Minnesota. I do spend a lot of my time outside of work with my husband and four children. My children are very active in sports, so my weekends are typically spent running between basketball courts and ball fields. I am also an avid runner and play golf.  As a family, we try to spend a lot of our summer weekends at a lake home we have in northern Minnesota.
What is something that people would be surprised to learn about you?
I have had the privilege to visit all 50 states – mostly through working at Deacom.
"Amanda is the ultimate Road Warrior, traveling wherever our Sales team needs her most. She manages 4 active children, an intense running regimen, and then brings her "A" game to Deacom every day. If you think your week is busy, take one look at Amanda's to keep everything in perspective. Thank you, Amanda, for 7 great years with many more to come!"

– Carol Martin, Director of Human Resources