It's that time again: time to reveal our newest Artisan to take the spotlight. Please join us in congratulating Tom Stenstrom, Product Engineer, for this well-deserved honor. This month marks Tom's fifth year with the company, and he continues to seek new ways to improve both his ability and the capability of Deacom's software.
According to Deacom's Founder and CEO, Jay Deakins, Tom's vast knowledge of DEACOM ERP has turned him into a 'go-to' person for people who are trying to understand how the different aspects of the system work together.
"He is an extremely detail-oriented person and as the software continues to expand, it is important that we have people like him as part of our team. Tom is a great example of someone taking initiative to make our software and lives better," said Deakins.
So who is this Artisan?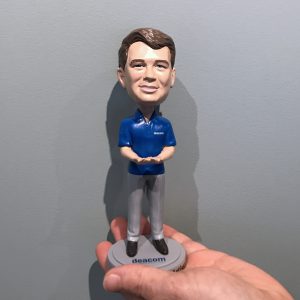 Describe your role at Deacom?
My role seems to evolve as do the needs of Deacom. Currently, I am a Product Engineer working on internal tools and processes. 
When and how did you come to work at Deacom?
I started working at Deacom in March of 2014 as a Project Manager. I had been working in the Aerospace industry mired in large government bureaucracies. I wanted to apply my problem-solving skills to something more tangible and near term.
What do you enjoy most about working at Deacom?
As an engineer, I love to learn "how things are made." Deacom provided me the opportunity to go onsite to a variety of customers and to see first-hand how things are made. In my current role, I have the mandate to solve the most challenging – and in my opinion interesting – problems brought forward by our customers, implementation specialists, and sales team. This is a tremendous team in a great environment.
What has been your favorite project at Deacom thus far?
Every new project seems to be my new favorite. I thoroughly enjoyed working on my own implementation project for Goulston. I was able to test my knowledge of DEACOM and flex my process engineering muscles. Everyone I worked with internally was very supportive and encouraging while the customer team was extremely friendly and engaging. Now I'm working on TOPHAT, a tool that will greatly improve the overall efficiency and communication of Product Specialists and Project Managers. With TOPHAT, I have been able to learn new software languages and techniques and work with some awesome team members like Ian Morris, Todd Shilhanek, and David Rhodes. Learning new software languages or techniques is always very exciting for me.
What excites you most about the technology industry?
Technology is an enabler. I view it as enabling greater productivity, more efficiency, and ultimately better automation. All with the goal of providing the individual more time to pursue their hobbies, interests, and passions. Technology is infused in almost all aspects of our lives. I believe we should make it work for us. The advances in just a few short years have been staggering. I'm excited to see what the next few years will bring.
What do you like to do when you're not at the office?
Most of my personal time is consumed with child-related activities. My kids are very active with sports, band, and other extracurricular activities. One activity we all like is to go skiing, but finding the time between all these other commitments is difficult. I also enjoy traveling and have taken the family internationally several times starting with Australia and Europe. Someday I would like to try living abroad in a big city like Paris or London.
 What is something that people would be surprised to learn about you?
The most obvious would be that I was born in Sweden and lived in Germany until I was 5. I also learned to fly and did my first solo before I could drive. I wish I would have continued with that. Maybe someday I will. Also, after completing my MBA, I took a race car driving course, SCCA certified. And I have a motorcycle. Did I mention that I like to go fast? 
If you are holding or wearing anything specific for your bobblehead, can you explain what it means to you?
My bobblehead is holding his hands out – offering a helping hand. It may look like I'm asking for a hand out but in reality, when asked if I can help, just tap my head and you'll get my response – "Yes, I can!" I gain tremendous satisfaction from helping others.