Press Release –
Deacom, Inc., a Philadelphia-based enterprise software company, has been recently acknowledged as a Top Tech Employer by Philadelphia Business Journal. Moving up the rankings three spots this year to number 17, Deacom's dedication to expanding its team and celebrating its unique company culture has earned their placement on this prestigious list.
"Over the past few years, the Philadelphia region has experienced steady growth in the technology industry," said Scott Deakins, COO of Deacom, Inc. "As the Philly tech scene continues to pick up speed, we are proud to maintain our position as a top employer and provide a work environment that both challenges tech professionals and encourages innovation."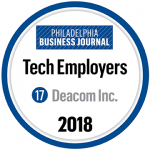 The software company identifies their culture as an "impactocracy" which Deakins considers to be a large contributor to their appeal in the market. "Our employees share a common goal of making a true impact on not just Deacom's software, but also the industry and our customers' successes. No matter which department they are part of, this approach pushes all team members to strive beyond what they think is possible and reach their true potential," said Deakins.
This Deacom mentality continues to play a significant role in the recruitment process as the team continues to grow its team with professionals that thrive in such a working environment.
The full list of Top Tech Employers in the Philadelphia region can be found online today or in the April 20, 2018 issue of Philadelphia Business Journal.
###
About Deacom, Inc.
Deacom, Inc. is the producer of DEACOM ERP, a comprehensive ERP platform with the industry's largest functional foundation. As the artisans of ERP software, Deacom builds functionality that specifically resolves the complex challenges of manufacturers and distributors. With a focus on constantly evolving the software, critical business functionality is developed by Deacom into the core platform. This provides a unique opportunity for customers to increase operational efficiency and decrease the total costs of ERP ownership. To learn more, visit deacom.com, follow on Twitter or call 1-877-4-DEACOM.