For food manufacturers, especially those in the meat, dairy, or seafood industries, certain aspects of production and inventory management are straightforward to track and manage. For example, in a case of six half gallon cartons of chocolate milk, where each carton contains 64 ounces of the beverage, a customer buying a case will get 384 ounces of chocolate milk, regardless of the case used to fulfill the order. Variability of either price or weight from case to case doesn't exist.
On the other hand, for other types of foods, such as cheese, variability in weight becomes a factor. Wholesale wheels of cheese may vary in size, so multiple cases of them will have variable weights, even if the cases have the same number of wheels in each. The variation in weight might not be large, but when finished goods are priced by their weight, a few percent can add up over time.
To address this, food manufacturers can employ catch weight management as part of their overall system of managing their production. Catch weighting is simply a method of handling product finishes that allows you to record, manage, and report on an item's variable weight.
How Can I Manage Catch Weight?
Several customers using Deacom ERP make extensive use of scales to ensure accurate weight requirements are adhered to during the receiving process and that correct weights are recorded both in the system and on generated labels during the finishing process. Deacom's scale integration allows customers to maintain accurate weights while streamlining weigh up and finishing processes without having to rely on third-party software.
In the item master profile, Deacom can store whether an item needs to capture a specific weight or catch weight. This gives organizations the ability to apply that rule at the item level so that when you transact with this item, additional postings are going to be required for the actual weight of each of the items being received in or each of the items produced.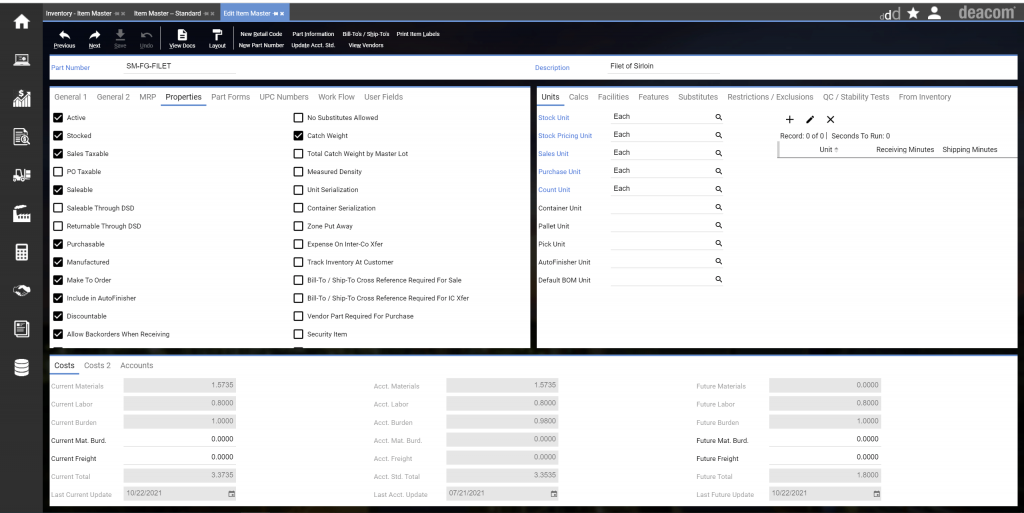 Additionally, a native component of the ERP system that food manufacturers can utilize to automate the input of production and the printing of labels is the Deacom AutoFinisher. The AutoFinisher automatically confirms that the catch weight item adheres to the weight specifications maintained within the ERP software. This system can receive catch weight values directly from a scale or a machine without vendor configurations. Weight minimums and maximums are stored within Deacom ERP and pulled in real-time to ensure the item number matches the pre-determined specifications. In addition, the palletizing functionality of the AutoFinisher allows for efficient creation of pallets of inventory.
When using the Deacom AutoFinisher, the scale weighs a finished case of product, records the catch weight, and captures the finish. It will assign a serial number to the case, print a label, and increment the count of completed cases. As finished goods come off the production line and you build a pallet of product, the AutoFinisher keeps track of the quantity finished. Once a pallet quantity is reached, AutoFinisher waits for an input from the operator that they are ready for the pallet label. AutoFinisher then prints the label while continuing to count additional finishes toward the next pallet.
Benefits of having catch weight management an integral part of your ERP environment
Automating the Weighing and Labeling Process
Through reliable API technology, Deacom ERP can integrate with scales so manufacturers can automate the finishing process within Deacom. This includes automatically generating barcodes and labels that include catch weight, lot number, and serial number data in less than one second. Imported customer-provided serial numbers can also be used. Deacom users can then palletize lots by creating a unique ID to help facilitate the movement and sale of the pallet.
Serializing at Unlimited Levels
Leverage unlimited layers (finished product, box, case, pallet, etc.) of serialization to meet regulatory and customer requirements.
Ensuring Data Accuracy and System Speed
All data, including what is captured during the catch weight process, is kept and managed in Deacom's centralized ERP system. By avoiding the need to push large volumes of data between software systems, companies are assured optimal data accuracy without sacrificing system performance speed.
Controlling Variances
Variance reporting can be done in real time to help manufacturers understand how much "giveaway" they are doing. If a catch weight exceeds customer specifications, companies can confidently make machine adjustments to help prevent wasting too much product.
Tracking Lots Throughout the Supply Chain
The serialization data that is generated during the catch weight process takes lot tracking and inventory visibility to a higher level. When used with Deacom's built-in warehouse management system, users can track lots forward and backwards throughout the supply chain while also gaining a detailed understanding of their inventory in real time.
Adhering to Thresholds
Weight thresholds and tolerances can be set in Deacom ERP to ensure customer requirements are always met. If a captured weight falls outside of those predetermined parameters, the ERP system will flag it so actions can be taken to fix it immediately.
Maintaining Production While Offline
If a network connection is unavailable, Deacom ERP will continue to process job finishes and generate labels so production schedules and speed are not interrupted.
Learn more
In this brief video demonstration of catch weight functionality, Amanda Goodman, Lead Product Consultant for Deacom, show how process manufacturers can capture random and specific weights of raw materials or finished goods using the ERP software's native capabilities.