Each month, the Deacom team members nominate one of their own to be the Artisan of the Month. These professionals have performed above and beyond to make a true impact on the company's software, business, and customers.
We are excited to announce that the July Artisan of the Month was Zachary Hussong, a Software Developer who has played a significant role in some of Deacom's most impressive software enhancements.
Here is what some of Zach's co-workers had to say:
Zach consistently paves the way and sets the standard for new team members.
Zach does not hesitate to put in the extra effort to make sure our client's solutions are in place and functioning. Customers that work with Zach request him by name afterward.
A talented employee who can solve any issue, no matter how many other people appear to be stumped by it.
He completes a huge amount of work at a very high quality.
So who is Zach? Check out his Artisan of the Month Q&A to see why working with him is always exciting, enlightening, and fun.
Describe your role at Deacom?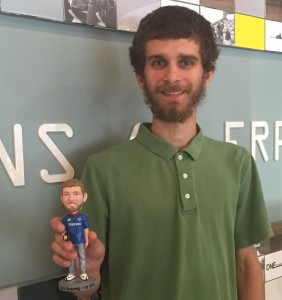 ZH: I'm a Software Developer. I develop ware which is soft. I specialize in integrations between DEACOM and 3rd party hardware or software systems, e.g. scales or FEDEX's web API.
When and how did you come to work at Deacom?
ZH: 4/14/14 (it's a numeric palindrome, 41414. I also left my previous job on another palindrome, 41114). I followed 2 other developers, Rah Mean and Peter McIlwee, from our previous job at an avionics equipment manufacturer.
What has been your favorite project at Deacom so far? Why?
ZH: The AutoFinisher project is a means of integrating scales used in many production lines with Deacom's production and labeling functionality. It has been an interesting challenge to figure out how to get the same program to interface with a wide variety of scales, all of which have very different communication methods.
What excites you most about the technology industry?
ZH: The development and proliferation of mobile devices presents an interesting opportunity to develop applications that would not only have been impossible but inconceivable not long ago.
What do you like to do when you're not at the office?
ZH: I enjoy losing soccer games, and cheering for soccer teams that lose. Also, cats are nice.
What is something that people would be surprised to learn about you?
ZH: I have a slight tendency to be mildly sarcastic, on occasion.
"Zach is the true definition of impact-ologist. He is not only highly skilled in his field, bringing his A game every day, but also a lot of fun to be around! We appreciate having Zach on the Deacom Team."

– Carol Martin, Deacom's Director of Human Resources