The experiences as an ERP (Enterprise Resource Planning) software user and as an ERP software vendor have led to the formation of the ERP Pain-O-Meter.
About 25 years ago, I ran my own manufacturing business and personally experienced significant ERP pain. The business struggled to get reliable data out of the ERP system to make decisions and we constantly found ourselves working outside of the system as our manufacturing processes evolved.
I masked the issues with short-term solutions: customizing existing software, bolting together multiple best-of-breed software solutions, and utilizing spreadsheets as workarounds. However, these options increased the IT operating budget and only caused more challenges in the long run. As this vicious cycle continued, this ERP pain progressed into an ERP nightmare.
This experience forced me to develop a long-term solution by exploring the ERP solutions available on the market at the time. The problem I found was that all the options would still leave my business vulnerable to issues I previously experienced. Nothing seemed to really solve all my problems.
After an unsuccessful search for software, I saw this void in the ERP market as more of an opportunity. So, I decided to take things into my own hands and build my own solution with a new ERP company. Twenty-two years later, I still come face-to-face with those same ERP nightmares only now I help other businesses eliminate them.
The experiences I have had as an ERP software user and as an ERP software vendor has led to the formation of the ERP Pain-O-Meter. The tool seeks to help CIOs avoid an ERP nightmare similar to mine. Below are the five biggest pain points of most ERP environments and where they fall on the Pain-O-Meter.
By staying aware of these red flags, preparations can be made against these ERP roadblocks before they prevent critical business decisions from being made. If your Pain-O-Meter totals more than 4 points, it is time to seriously consider strategies for improving your ERP environment.
2 points: Your desktop is cluttered with shortcuts that make up your "ERP Suite"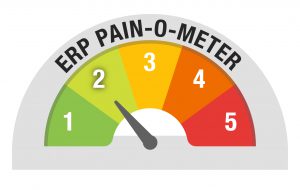 If an ERP environment is designed around "best of breed" functionality, users may fall victim to desktop overload. It's common for us to meet with companies that work with 20+ software systems to run their business. Whether it is a CRM, accounting, purchasing, warehouse management, distribution, or quality control, it seems as though every step of the product lifecycle runs independently from the others.
If a number of systems are used to run a business, users are faced with managing that same number of individual logins, interfaces, and system trainings. A desktop should not act as the central hub for the entire operations. The ERP should.
3 points: Your existing software systems do not talk to each other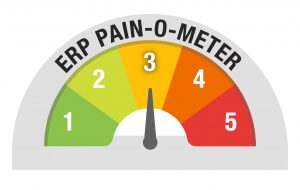 Relying on independent pieces of software can also make an environment vulnerable to broken system connections. Sometimes systems were never originally integrated together, or customizations restrict communication between systems.
Consider how difficult inventory planning for a manufacturer can be if users are manually maintaining spreadsheets as workarounds or juggling disjointed pieces of software. This all points to the lack of a central data source to deliver consistency throughout the entire organization. Then, add the risk of human error and even the most seasoned production manager will cringe.
4 points: Shared Excel spreadsheets are constantly the answer as business processes evolve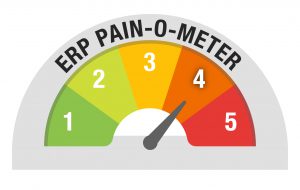 As businesses grow and needs change, inflexible ERP environments prove their inability to keep up. Companies tend to become more dependent on manual workarounds via Excel or Access to get even the simplest reports or processes completed.
One thing we see very often is that one person holds the responsibility of managing an entire process outside the system. Let's take Sue, for example, who has been managing the production schedule for the past four years but prefers to keep it all in Excel. She does a great job at scheduling so no one has really questioned her process. But when Sue wins the lottery or has to leave work unexpectedly, will anyone be able to step into her role without missing a beat?
Or what about the dreaded Paper Olympics? The concept of physically printing and sharing important quality control reports, and shipping documents between departments is cringe-worthy. There are no process controls in place keeping them from being lost in a sea of other papers on a desk or getting into the hands of an unauthorized worker. Once they finally reach their endpoint, there is a high probability that the final document has a misplaced a decimal point or mistyped SKU letter.
2 points: Your IT budget is overwhelmed by customization costs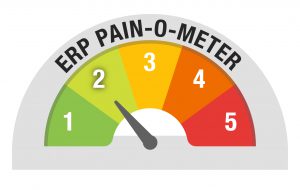 On the surface, customizations seem like a great idea but they only provide a quick-fix for what is most often a long-term need. Once the system updates or a change to the software occurs, the customization can be ineffective and often needs to be re-implemented. Many ERP providers consider this to be the "gift that keeps on giving" because they will now be paid, yet again, to create that one-off customization for the client.
When evaluating the impact of a customization, it is important to not only consider the positive ones, but also the negative. Customization maintenance over time is one of the most common contributors to ERP cost overruns.
5 points: The ERP environment is restricting your ability to upgrade infrastructure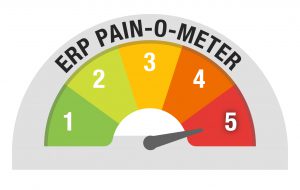 There is a direct correlation between technology and organizational growth which is why it is ranked highest on the Pain-O-Meter. As technology develops and system upgrades become available, a company needs to embrace the change to stay relevant.
A few of the most common reasons that upgrades are bypassed by organizations include:
Excess customizations: Sometimes, so many customizations have been made that businesses consider an upgrade to be just as disruptive and expensive as a reimplementation of the ERP system.
Conflicting applications: An environment of multiple applications can conflict with existing, internal IT software preventing an upgrade strategy from being put in place.
Old technology: Dated technology does not encourage software upgrades to new, more secure operating systems. This is especially true if the software is no longer supported by the vendor.
These hurdles are often why companies wait years to even entertain the idea of an upgrade, creating a challenge for the company to keep up with technical advances, regulation changes, emerging trends, and other players in the market. If a company has not upgraded in 5+ years, they are ignoring the opportunity for improved functionality and new features that could provide a long-term benefit to the company. New capabilities could also replace those costly customizations.
I challenge you to carefully think about your existing ERP environment and where it falls on the ERP Pain-O-Meter. If you have exceeded 4 ERP pain points, then it is time to make changes to prevent them from transforming into ERP nightmares.
This article was originally published on CIO.com on February 12, 2018.