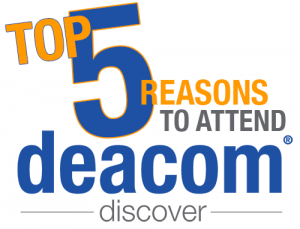 This year's Deacom Discover User Conference is right around the corner. The event is an opportunity to learn from Deacom's premier team and share ideas, stories, and strategies –not to mention socialize – with some of your industry's finest professionals.
If you are still uncertain if you will attend this year's conference, consider these top five reasons:
1. Because you need to stay ahead of the game.
Deacom's software is constantly evolving and the team works hard to keep it up to date with the latest enhancements and industry demands. Sessions this year will address the various, new functionalities that the Deacom team has built into the system over the past year to give users a competitive edge.
2. Because you want to be inspired.
Conferences can leave attendees overwhelmed with information. What makes Deacom Discover different is that it is our mission to help improve our customers' knowledge and use of the system. As the artisans of ERP software, the Deacom team will show you how to best leverage the software for your specific business. We will help inspire you to improve processes and drive growth.
3. Because we can always use a refresh.
Especially for long-time Deacom customers, it is sometimes helpful to go back to the basics. There are a variety of sessions fit for every professional area so attendees can get a refresher on the most critical elements to their operational foundation.
4. Because Deacom has the best customers.
Take advantage of the opportunity to network with some of the best in your industry. Whether it's pharmaceutical, food, coatings, beverage, sealants, cosmetic, chemical, or nutraceutical, this conference is a great opportunity to discover how like-minded professionals are leveraging the DEACOM software.
5. Because you work hard, to play harder.
The conference days are jam packed with valuable information and lab exercises to improve how companies operate their businesses. That said, we are planning fun evening events for all attendees to relax and continue networking with Deacom team members and industry peers. What other conference can you enjoy a great cut of steak, race go-karts, and get an exclusive look at Deacom's new headquarters with champagne in hand? And that's just the tip of the iceberg!
Sessions are filling up quickly so don't miss your chance to secure a spot in the sessions you want! Register now for Deacom Discover.
We look forward to seeing you!