This month marks the 25th year that Deacom has been in business and while 2020 may be the most turbulent year, there is still so much to celebrate.
It all started when a man became fed up with the ERP solutions available to help his manufacturing business's operations. It seemed that every option he looked at was either going to blow past his budget, fail to deliver on the functionality requirements he needed or even increase the complexity of his business. Nothing was the right fit. So, he decided to create the right fit.
This man was Jay Deakins. In the early 1990's he owned and operated his own manufacturing business of all-natural cleaning products. Unsatisfied with what was available on the market, he took it upon himself to develop an ERP solution that was transparent in price, inclusive of all functionality specific to businesses like his, and free of seemingly endless customization needs. He developed DEACOM ERP with the philosophy of "Complexity Made Simpler".
From that point on, the rest is history… this history:
1995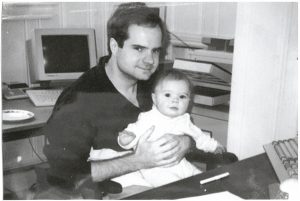 Deacom is founded by Jay Deakins in the basement of his family home just outside of Philadelphia, PA. At this point, he developed, implemented, sold, and supported the solution single-handedly.
2000
Deacom moves out of the basement and into its first, official office in Wayne, PA.
2001
Jay hires his first employee, who still works at the company today!
2007
Deacom begins to place a larger focus on the batch and process manufacturing industry. The complex nature of these companies makes them the perfect match for DEACOM's robust suite of native capabilities.
2009
DEACOM Warehouse Management System (WMS) launches as a native component of DEACOM ERP with real-time capabilities.
2014
The company opens its first branch office in Denver, CO to improve its ability to service west coast customers.
Deacom launches its native mobile application, delivering real-time visibility, full reporting and drill-down capabilities, and the ability to make changes on the go – all from a mobile device.
2016
Deacom successfully coverts the entire backend of DEACOM ERP to a .NET framework. This change has given the company the flexibility to evolve with face-paced trends quicker than its competitors can.
With the launch of Deacom's native ecommerce functionality launches, customers are able to better capitalize on B2B and B2C sales channels using data that is powered from the core ERP system.
2019
Deacom launches its Managed Cloud Services solution. By relying on Deacom to host and manage their ERP environment, customers can focus on other critical matters for growing their business.
2020
Deacom's first international office opens in Frankfurt, Germany. This office focuses on sales and services to European manufacturers as well as North American companies with subsidiaries located throughout Europe.
What will the next 25 years have in store for Deacom?
While international growth and system development will be a large focus in the upcoming years, Deacom will carry forward it's long-standing philosophy of "Complexity Made Simpler." To achieve this, we will follow the ONE mantra:
ONE System – Native capabilities like CRM, quality control, WMS, document generation, ecommerce, and many more, along with your company requirements are part of the standard ERP solution. This makes it easier and faster to implement and upgrade.
ONE User Experience – Intuitive and consistent working experience across all departments, all platforms, and all devices.
ONE Fixed Price – Pricing transparency and no surprise fees for the software, process engineering, enhancements, and training during the implementation – Guaranteed!
ONE Team – Deacom is the single partner for everything you need: software, implementation, training, service, and support.