We are excited to announce the launch of Live Support Chat for all Deacom customers, bringing their customer support experience to new levels.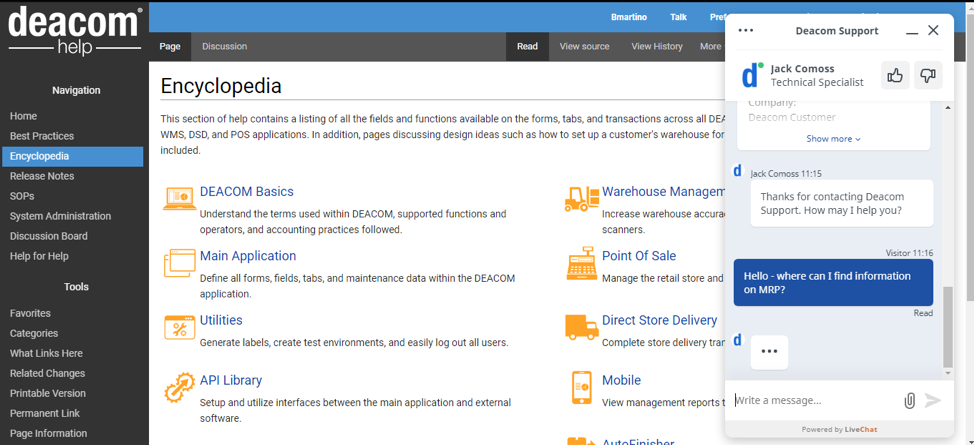 Curious about a specific DEACOM button or field? Looking to reset your Help System credentials? Get help fast by chatting with our team now!
What you need to know:
Live Chat is accessible through the Deacom Help System.
Customers can start chatting from any page within the Help System.
Email and phone ERP support will continue to be available as additional support methods.
All Live Chat conversations are logged as a ticket in Deacom's Tracker System as a transcript record. You can also email yourself the transcript and view all previous Live Support chats when you open the chat box.
Getting Started
Log into the Deacom Help System.
Click the "Chat with Support" button on the bottom left of the window.

Provide your name, company, and email address. Then, "Start the Chat".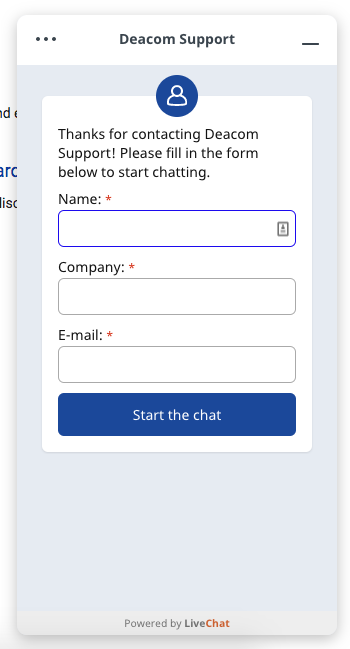 You will be automatically connected with a Deacom Support Specialist to help.
Once complete, you will have the opportunity to rate your experience.
Live chat is a great way to get quick answers on any DEACOM topic while you're browsing our Help system. We look forward to continuing to deliver our customers with the best ERP support experience possible.