Reporting is a key aspect of any ERP system, providing users with the ability to gain a comprehensive understanding of essential day-to-day business operations and make smart business decisions. In DEACOM, the data included in reports and the way that information is displayed is controlled by what we call Grid Layouts. Version 16.02 of DEACOM ERP introduces two new Grid Layout options that system administrators can use to better manage their company's reporting requirements.
With these new features, companies can now create an unlimited number of existing system reports by copying that report's Grid Layout. They can also gain more control over which reports users can see in the system via the new Grid Layout Security feature. This level of security can be used to protect sensitive data or to provide users with a more focused list of reports.
Unlimited User Reports
In the past, DEACOM provided a set number of user-definable reports, which users with the appropriate security could modify to their needs. Now, system administrators can create unlimited user versions of any system report by simply copying the Grid Layout associated with that report. Once the Grid Layout is copied, the title of the new report along with the initial set of fields to be displayed can be specified. Users with the appropriate security can then modify the report as necessary. Companies can leverage this feature to create sales reports tailored to their various territories, divisions, or product lines in addition to creating new reports in areas where user-definable reports were previously unavailable, such as Production and Accounting.
A user's ability to access the report can also be determined at this point, via the new Grid Layout Security option discussed below. Once the appropriate access has been established, users will be able to see the new report in the Report Type drop down field on the various reporting pre-filters throughout the system.
DEACOM USERS ONLY: For more information, visit DEACOM Help System: https://help.deacom.com/index.php/Grid_Layouts.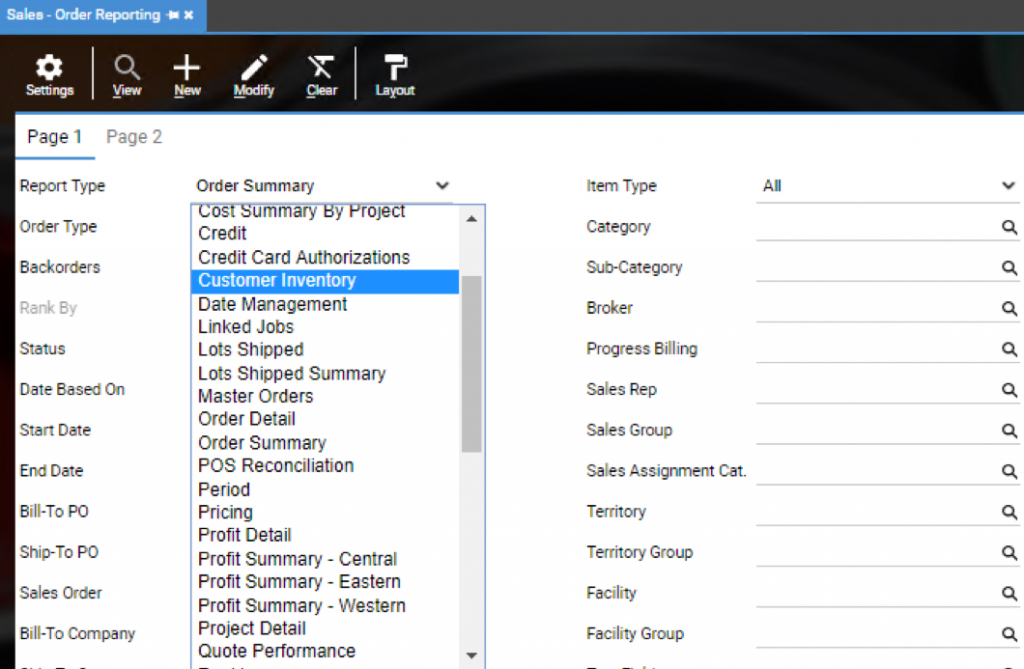 Grid Layout Security
DEACOM has always provided the option, for any user with the appropriate security, to make changes to the Grid Layouts of already established reports. Now, we are introducing a new layer of Grid Layout Security by restricting the visibility of certain reports to select users in the Report Type dropdown. Grid Layout Security allows any report in the system to have User Group and User level security enforced. This feature can limit access to certain financial reports as well as sales data dealing with specific territories or products.
Users will automatically inherit the permissions set for the User Group that they are assigned. Exceptions to the group can be managed by system administrators via the Edit Grid Access button on the individual User Record. Deacom customers that upgrade to Version 16.02 or higher will see that their existing security settings converted over to Grid Layout Security to help simplify the upgrade process.
DEACOM USERS ONLY: For more information, visit DEACOM Help System:  https://help.deacom.com/index.php/Grid_Layout_Security.

No matter what role – board member, floor manager, or accountant – reporting continues to be one of the most critical requirements and benefits of an ERP system. DEACOM users of 16.02 and higher will see great benefits from these new features.