Many batch production methods use quality checks during the manufacturing process to correct mistakes as early as possible and allow for modifications to the product to ensure the desired results.
Strong quality control is essential for every process manufacturing business, especially those that use batch production methods. Without strict measures in place, a company's reputation, ability to maintain compliant, and future growth is at risk. Quality checks during the manufacturing process enable manufacturers to identify mistakes early so they can be corrected, or product modifications can be made to ensure desired results.
To help our customers better manage this process, DEACOM version 16.02 offers a new feature that prevents users from continuing the issue process until quality control results are entered into the system. By adding tighter controls to the issuing process, customers will derive many benefits, such as timely entry of QC results, more accurate use of ingredients (which can help eliminate waste), and stricter QC processes to demonstrate to clients, regulators, and auditors.
DEACOM users can enable this feature (and also use it in conjunction with other DEACOM quality control options) by selecting a QC test in the new "QC To Continue" field on the appropriate lines on the bill of materials. It can also leverage DEACOM's Custom Adds process in situations where materials need to be removed or substituted, or quantities need to be tweaked because of QC testing results. In these cases, QC personnel can modify the Custom Adds form on the job before allowing production personnel to continue the issuing process. The feature applies to both the issuing and final staging transactions when using the main DEACOM application or the Warehouse Management System.
So, let's briefly walk through the feature. Consider the bill of materials below for Pumpkin Spice Sauce. In this example, the customer wants to issue the first five ingredients to the batch, mix them, and then perform a moisture content check to see if any modifications are required before continuing to issue the rest of the materials.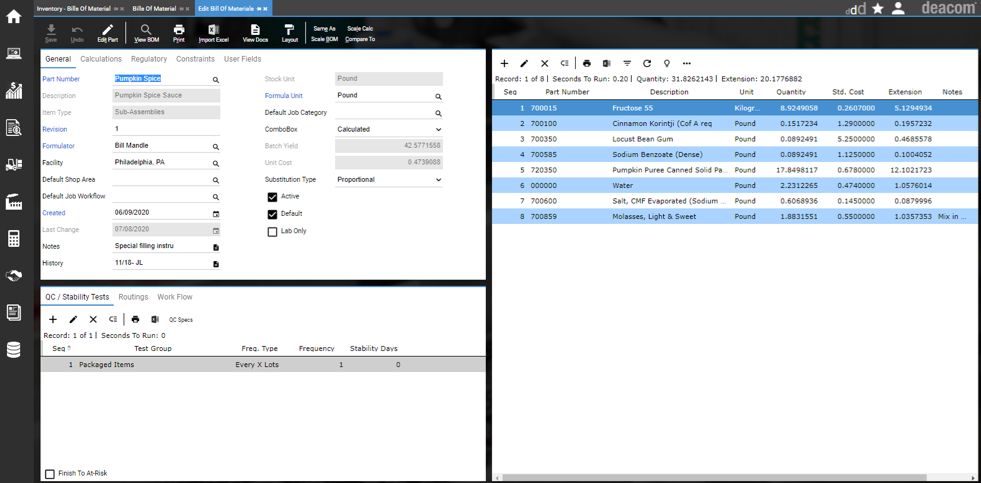 To enforce this in DEACOM, the user can modify line five on the bill of materials and insert the moisture content QC test in the "QC To Continue" field on the BOM line as shown below.
NOTE: Typically, the QC test that is selected will belong to a Quality Control Group that is attached to the bill of materials. That Quality Control Group must not be marked as "Do QC After Production" to allow QC results to be entered during the issue process and prior to material finishing.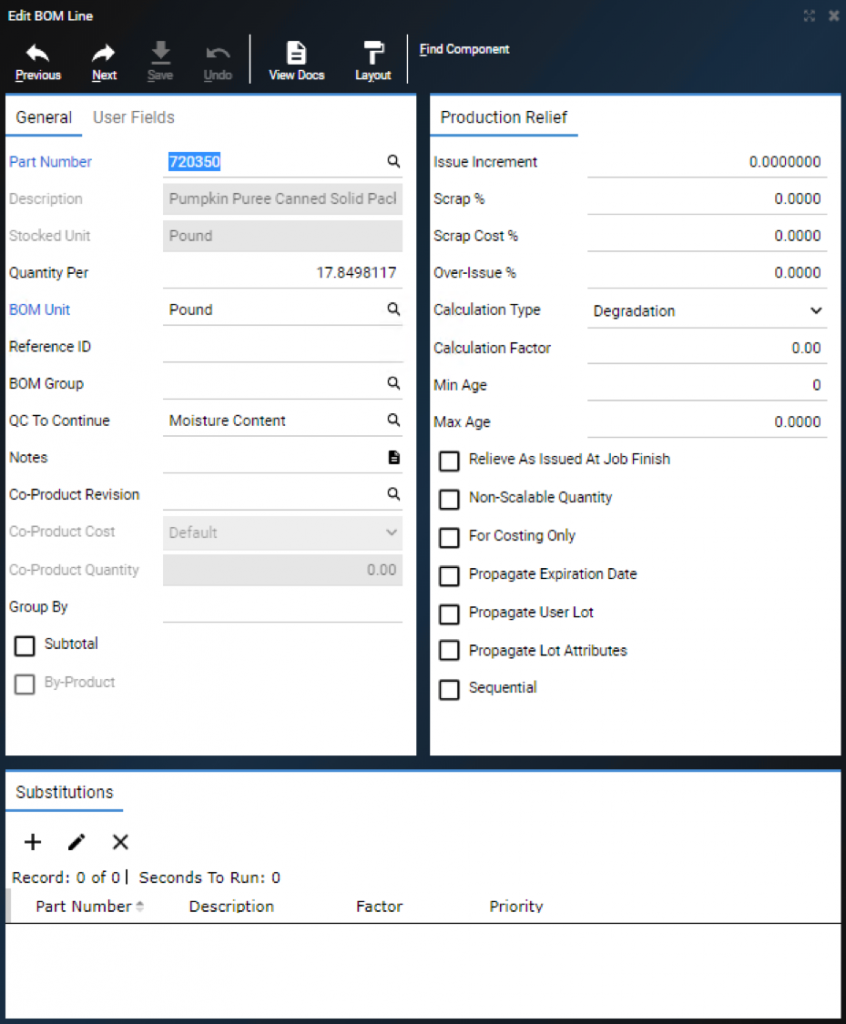 Once a production job has been entered for the Pumpkin Spice Sauce, using this bill of materials, users issuing to the job from the main application will be presented with the list of ingredients to use in the job. This is shown below.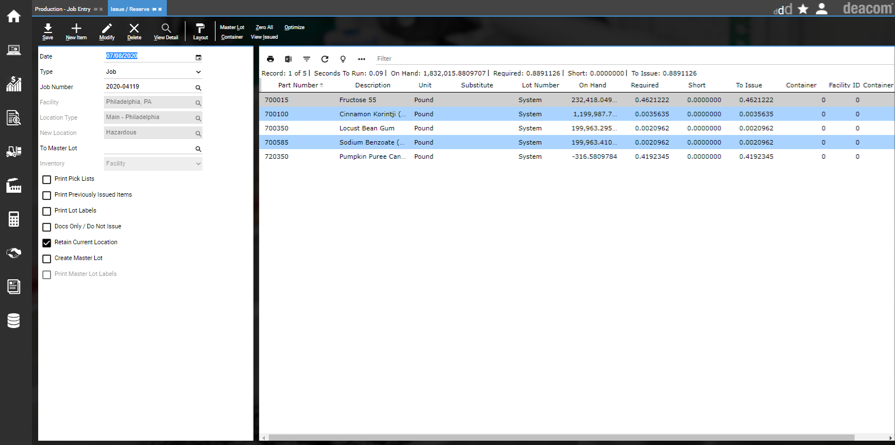 Once these ingredients are issued, QC personnel may then enter QC testing results via Production > Job Reporting. Once testing results have been entered for any tests indicated in the "QC To Continue" field, issuing may resume. As mentioned earlier, any changes to the list of remaining ingredients, including quantity tweaks, can be performed by QC personnel via Custom Adds form on the production job.
When the user returns to the issuing screen for this job, they are then presented with the remaining ingredients to issue. Any changes made to the Custom Adds form for the job will be visible on this screen.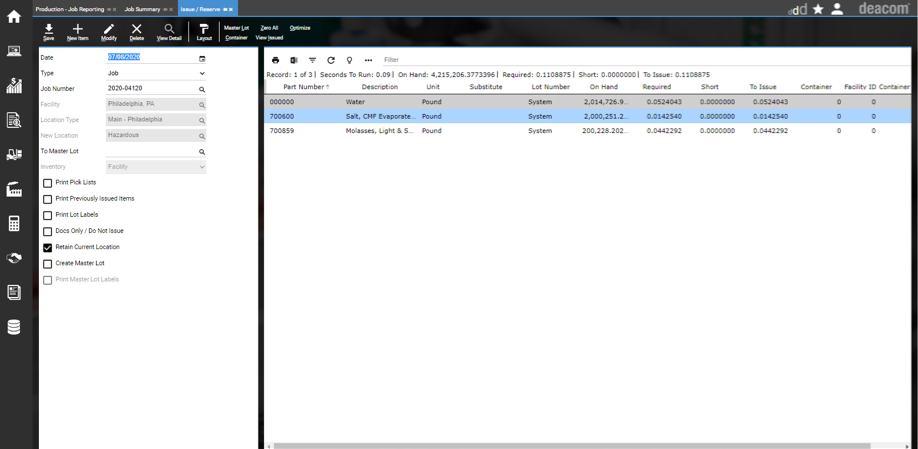 With this new QC feature, DEACOM users of version 16.02 and higher can add another layer of quality control to their issuing and manufacturing processes while saving time and reducing potential material waste.
DEACOM USERS ONLY: For more information about Quality Control and Material Issuing, visit DEACOM Help System: https://help.deacom.com/index.php/Managing_QC_Tests#Configuring_quality_control_testing_for_issuing_materials