Ecommerce is no longer a nice-to-have. It's now more important than ever to deliver on customers' digital needs and modern ecommerce trends. What is your business doing to stay competitive?
Because of the number of changes in the industry, B2B commerce is becoming increasingly vital for process manufacturers. Even as more and more of your customers are coming to expect online transactions, we still are seeing a hesitancy to embrace ecommerce.
Let's first explore some of the trends we are seeing within the space, take a look at how the events of the past few years have changed behaviors, and finally, if you are considering ecommerce as part of your overall digital transformation strategy, what are some of the things to look out for and consider.
Global & US B2B Ecommerce Sales
Within the last two years, 75% of B2B buyers favored digital interactions over in-person contact. And last year alone, mobile devices accounted for 73% of all ecommerce purchases. This points to the ease of use that people experience and why they prefer to make purchases on mobile devices vs. desktops.
According to Digital Commerce 360, in 2021, online sales on B2B ecommerce sites, log-in portals and marketplaces increased 17.8% to $1.63 trillion. And as online business trends continue to play a role in everyday B2B operations, it is forecasted B2B ecommerce site sales will reach nearly $1.77 trillion by the end of this year, a 12% increase from a year prior.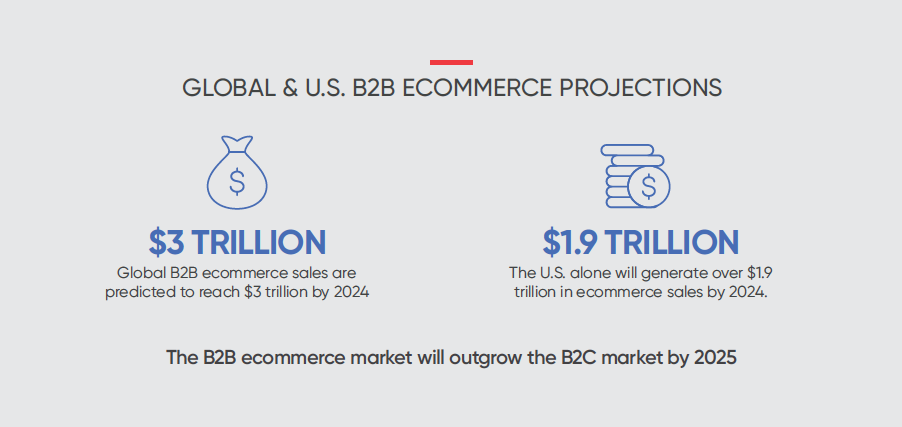 Lessons Learned From the Pandemic
COVID-19 acted as a catalyst for manufacturers to shift to online sales both in the B2B and B2C customer segments. We've seen several reasons for this and they include:
To protect sales in the event of future business disruptions
To provide real-time visibility of inventory availability
To give 24×7 accessibility to support your customers
To give customers access to more product details
And to lower your cost-to-serve by decreasing in-person marketing and selling
The pandemic forced how consumers purchased things, but it also changed how B2B customers want to buy. People stopped working their typical work hours, they weren't in the office to pick up their phones, and so many manufacturers needed a different channel to communicate with their end customers. In addition, sales reps were not able to get out on site and physically be in front of the customer. We saw the need for the creation of more complicated B2B ecommerce sites to support these types of businesses. In one sector, for example, we're seeing complex engineering parts like roof trusses needing to not only be sold but be configured as part of the overall online purchasing process.
Ecommerce Is Both a Priority and a Challenge for Manufacturers
Even though many companies have prioritized it, many are running into significant problems with implementing an ecommerce strategy today.
From a challenge perspective, with the types of products we're talking about it's not as easy as going out to a platform like Shopify and WooCommerce to deploy a site to sell your products. Most of the process manufacturers we work with are producing very complicated SKUs that need a more sophisticated ecommerce solution to serve your customers.
Things to Consider When Implementing Your Ecommerce Solution
The most important thing to do as you look toward implementing an ecommerce solution is to set up a game plan and roadmap for what you want to accomplish.
Start by mapping out your customer journey. Where are your customers located? How do they want to make their purchases? What information do they need to have access to in order to complete those purchases? By mapping out that customer journey initially and early on in your ecommerce implementation, you will ultimately create a better customer experience.
Business System Integration, Speed, and Synchronization of Your Ecommerce Solution
You'll want to consider how to create a real-time flow of item prices and availability from your ERP system. Nothing's worse for your customers than placing an order for a product only to receive a notice saying that the product is no longer available. The speed of making pricing changes impacts your margins. Given how quickly labor and raw material transportation prices are changing, you will need the ability to quickly change your prices within your ecommerce solution so you're adapting in real-time.
You also want to make sure you are syncing your order information to your ERP in real time. The slower you sync your ordering information and aren't in real time the less you're going to have your availability reporting. The quicker your orders can come in and the quicker you're able to view those through your material requirements planning, the more effectively you'll be able to show customers what products are available and what might not be available.
Shipping
You'll need to build and provide flexible pricing options for various shipping methods. Amazon has completely disrupted the market from a customer shipping expectation perspective. You'll need to ask yourself, what pricing options do you have available for your customers? In the event of supply and demand fluctuations, how quickly can you change those prices within your ecommerce platform?
Order Management
Make re-ordering simple. This is grossly underserved in the standard B2C ecommerce platform market. Your customers typically re-order the same finished goods from you on a frequent and recurring basis. Within self-service ecommerce experiences, they are looking for responsive interfaces and intuitive controls that save them time when ordering and reordering. Data suggests that more than 86% of B2B customers prefer to order, reorder, and check order statuses using self-service capabilities rather than contacting sales staff. Creating order templates that enable your customers to see their order history and re-order those same goods is invaluable for your customers' overall ecommerce experience.
Fulfillment
Picking strategies are crucial for small ecommerce orders. If you're not fulfilling small orders today, and you're expecting to open an ecommerce sales channel and support it through your legacy picking strategy, you're probably not going to set your business up for success. You'll need to come up with a strategy, for example creating a pack-out area. This could quickly be replenished for picking smaller orders of individual finished goods, rather than full pallets or larger products that might be shipped through typical sales channels today.
Customer Service
You'll need to evaluate your digital marketing and customer service strategies. Ecommerce demands a different type of customer service. We're seeing more and more customers deploying technologies like website chat features as customers want the ability to quickly communicate with their vendors in this manner while they're on a page looking at product details. A recent survey showed that 42% of B2B customers prefer live chat support, versus 32% who would rather speak on the phone, 23% preferring email, and 3% prefer getting support via social media. Understanding how you are going to support your customers when they have questions is an important component of working through implementing an ecommerce strategy.
Ecommerce has become an important and seemingly required aspect of a manufacturer's digital transformation. More and more we're seeing our customers use ecommerce to engage customers, track trends, and make better business decisions. Is your company prepared to meet customer expectations as these trends continue to grow?