The ballroom was packed with gowns and tuxes as SmartCEO Future50 Award recipients gather to celebrate their great accomplishments at the annual awards gala. The Deacom team was no exception.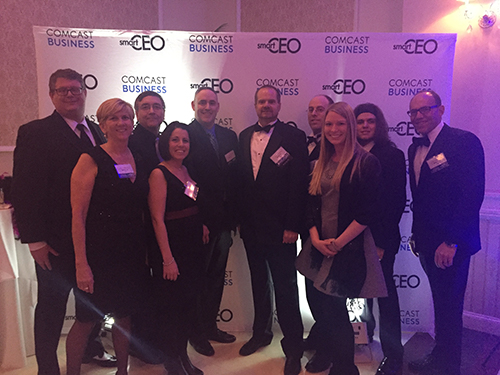 As the publication's most prestigious award of the year, the Future50 Award acknowledges the fastest growing businesses in the Philadelphia area. These companies not only embody the entrepreneurial spirit critical for leadership and success, but also have an impressive, three-year employee revenue growth rate.
"We are thrilled to be acknowledged as such a significant player in the Philadelphia region," said Jay Deakins, Founder and CEO of Deacom "We have dedicated many resources in recent years to establish an exceptional team, strong process control, and a unique market approach. The Future50 Award validates the decisions and strategies we have put in place to get to where we are today."
This award comes nearly one month after the company moved into their new headquarters in Chesterbrook, Pa, just 45 minutes outside of Philadelphia. Complete with state-of-the-art security, collaborative workspaces, and inspirational meeting rooms, Deacom is sure to attract not only larger clients but also more employees.
"This move is just the next chapter in Deacom's storybook. We are working with much larger clients and now have the means to continue building out our team to deliver optimal support to the Deacom Community," continued Deakins.
To see the photos from the event, visit Deacom's Facebook page or check out the video below: