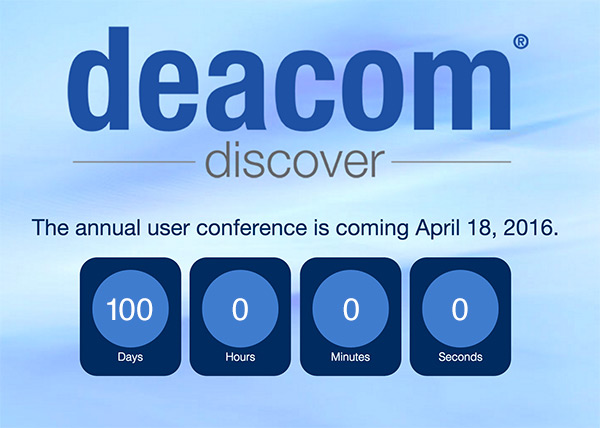 You heard right, only 100 days until this year's Deacom Discover User Conference hosted at the Radisson Valley Forge. This is the event of the year for all those using DEACOM ERP for their business operations. In-depth training, networking with industry users, relationship development with the Deacom team, round table discussions, delicious dinners, and one-on-one sessions with experts will be sure to keep everyone excited.
For those that have attended in years past, this year we are doing things a little differently:
Beginner and Advanced Sessions: Attendees of this user conference range in Deacom experience levels from early implementation to long-time customers. That said, some sessions will be designed for Beginner and Advanced users to better suit the training for those specific participants.
New Location: To shake things up a bit, we will be hosting the four-day event at the Radisson Valley Forge. This is a prime location: adjacent to the Valley Forge Casino, a short drive to the King of Prussia Mall and across from the beautiful Valley Forge Park. By booking under the Deacom block, attendees will receive a $124 room rate, free wi-fi, and access to a modern fitness center.
Cocktail Hour at the New Headquarters: On December 28, the Deacom team moved into their new, state-of-the-art headquarters in Chesterbrook, Pa. Deacom Discover attendees will be escorted to the new office on April 20 for a cocktail reception to tour the facility and continue networking with the whole Deacom team. The Customer Appreciation dinner at Maggianos will follow.
Make sure you take advantage of the Early Bird savings and register before February 1st to save up to $600 per attendee!
These are just a few of the exciting things the Deacom team is preparing for attendees. So stay tuned as new details are released…