Today, Sarah Miles takes the Artisan Spotlight as Deacom's Internal Systems and Data Administrator!
Sarah is often thought of as an unsung hero here at Deacom. Taking on a lot of the behind-the-scenes work, her efforts carry throughout just about every department of the company.
"She constantly has a positive attitude and takes on whatever is thrown her way," said Scott Deakins, COO of Deacom.  "Over the past few years, she has definitely made a real impact on our business from helping us win sales deals to supporting the implementation team however she can."
Want to learn more about this Artisan?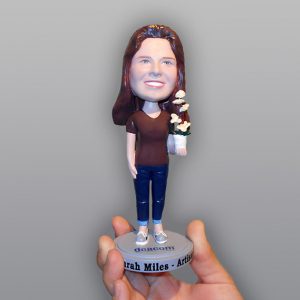 Describe your role at Deacom?
SM: At Deacom, I wear many hats. I work in implementation to help get customers live on our software as well as support our sales demo team by setting up complex scenarios for their on-site demos.
When and how did you come to work at Deacom?
SM: Back in 2013, I moved from Mississippi to Pennsylvania looking for better opportunities. I heard through a friend that Deacom was a growing software company and was hiring software test engineers. I applied for the job and shortly thereafter was offered an opportunity that got me to where I am today.
What do you enjoy most about working at Deacom? Why?
SM: I enjoy the challenges that are thrown my way every day and working in several different departments to ensure our company and customer success.
What has been your favorite project at Deacom thus far? Why?
SM: My favorite project, and most challenging, was learning and implementing the OSHA Safety Data Sheets (SDS) into DEACOM. I enjoy learning all of the different hazard classifications and the math to ensure it is calculated properly and working with our customer's chemists/regulatory managers.
What excites you most about the technology industry?
SM: How fast it is growing and that it is limitless. It is great to see how technology affects nearly every aspect of civilization that we live in, whether it be health, education, energy, or even space exploration.
What do you like to do when you're not at the office?
SM: When I am not in the office, you can find me hiking, working on art projects, or gardening.
What is something that people would be surprised to learn about you?
SM: I was born and raised in what I would like to call a small farm in Mississippi. I lived in a log cabin in the middle of a forest area and at one point was helping my family tend to chickens, goats, cats, dogs, rabbits, acres of vegetable plots, and raising AKC registered German shepherds for the local police departments.
If you are holding or wearing anything specific for your bobblehead, can you explain what it means to you?
SM: I am holding an Orchid because it is my favorite plant. It is not only beautiful but challenging to grow.
"One of the things we appreciate most about Sarah is her flexibility. She applies her 'green thumb' philosophy of care and attention to both her orchids and to the projects she is tasked with on a daily basis.  Sarah is a wonderful asset to our team!"  

– Carol Martin, Director of Human Resources