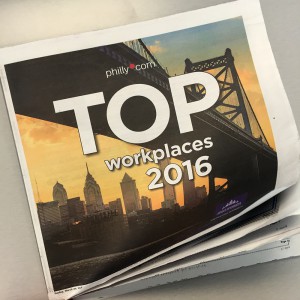 In yesterday's Philadelphia Inquirer, Deacom was acknowledged as a 2016 Top Workplace for the second year in a row. Considering the fact that the results were determined solely from employee feedback, this is a tremendous honor for the company.
"Deacom's success is in large part due to our exceptional team members and we are honored to receive such an significant award," said Scott Deakins, Chief Operating Officer of Deacom. The corporate and employee initiatives have successfully attracted and retained some of Philadelphia's finest professionals. So what has Deacom's Artisans raving about working here? Here are just five benefits of working at Deacom:
Unique Culture – "Our culture is different from other tech companies – we call it an 'impactocracy.' Sharing a passion to achieve beyond their job descriptions, each team member strives to make an impact on the business and industry as a whole," continued Deakins. This strategy has allowed Deacom to become a disruptor in the ERP industry.
Mentorship Program – Each new-hire is paired with an experienced Deacom team member for the first 90 days and beyond. This partnership contributes toward becoming acclimated with the Deacom culture, system, and processes. This has proven to help guide new employees through what can often be a stressful transition period at any company.
Leadership Development Program – As the newest initiative, Deacom employees have the opportunity to participate in a 16-week leadership program to improve goal setting, management skills, and communication to further develop their careers. "Deacom is growing tremendously and this program will provide the tools necessary to further develop strong leaders and encourage promotions from within the company," continued Deakins.
Incredible Team – The Deacom team is more than just a group of employees. We are insightful, fun, helpful, driven, passionate, encouraging, positive, hard-working, and brilliant. No matter the background, we are a family and truly enjoy working with each other. Not to mention, we also have the most impressive group of home brewers, Ping-Pong pros, and master chefs in the Philadelphia area.

Cutting Edge Technology – No one does ERP software like Deacom. Our developers are constantly working on new and innovative ways to meet the requirements of the process manufacturing industry and set ourselves apart from Tier 1 competitors. Simplifying the most complex challenges with elegant, technology-centered solutions is what drives us to perfect our craft. 
Since 2012, the Deacom team has grown over 650% and is committed to hiring another 50 employees this year alone. Currently we are looking for stand-out professionals who can contribute to the company's thriving success as Technical Specialists, ERP Specialists, Software Developers, Project Managers, and Business Development Representatives. To find out more about these positions and how to join the Deacom team, visit our careers page.