Last week Deacom welcomed the largest group of customers yet to attend its annual User Conference. With over 150 members of the Deacom community gathering together for 4 days of informative sessions, invaluable networking, collaborative strategizing, and some well-deserved fun, this year's event was one for the books.
Monday kicked off with enlightening industry roundtable sessions where industry leaders shared their knowledge and challenges with peers. This session is often found to be the most valuable for not just customers, but the Deacom team as well. While fellow industry professionals learn how other businesses are leveraging DEACOM ERP to improve processes and meet developing regulations, the Deacom team evaluates the discussions to identify if and how the company can further develop its ERP solution.
The first day concluded with a delicious steak dinner at LP Steak and a welcome toast from Deacom COO, Scott Deakins.

Tuesday morning began with what most attendees were most excited about: the Keynote and What's New sessions. Deacom founder and CEO, Jay Deakins told the story of his journey from a basement office to Deacom's new, beautiful headquarters in Chesterbrook, Pa. Focusing on how the product has evolved when it comes to the process manufacturing industry and usability demands, customers were excited to hear from the person behind the Deacom vision.
Deacom Artisans then spent the morning of the user conference reviewing the new functionality introduced in the past year and what is expected in the upcoming year as it pertains to Sales, Accounting, and Production. While some of these details are not yet available to the public, they will make a significant impact on the daily operations of the Deacom community. Afternoon roundtable sessions focused on individual roles such as Systems Administrators/IT, Accounting/Purchasing/Sales, and Production/Inventory/Warehouse Management.
After sitting in workshops all day, it was time to let loose and channel our inner kid. The whole group boarded coach busses and headed to Arnolds Family Fun Center where go-kart races, head-to-head laser tag, and bowling tournaments took place.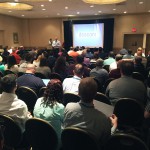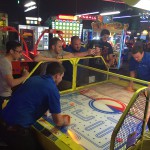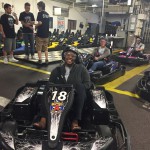 Waking up bright and early on Wednesday, it was time for the more general sessions, which included Advanced and Beginner classes in MRP/Forecasting and Warehousing/Inventory/QC. Other workshops that took place throughout the day included Mobile, Account Planning, eCommerce, CRM, and Financial Statements.
Since the Deacom team moved into its brand new headquarters on December 28, 2015, many customers had yet to visit the new building. So Deacom opened its doors Wednesday night of the user conference for cocktails and tours of the new facility on Customer Appreciation Night. Many customers were excited to spot their logo on the Artisan wall. The night concluded with a family style Italian dinner at Maggianos Little Italy..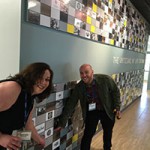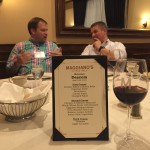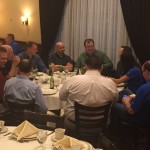 Before we knew it, it was the last day of the 2016 #DeacomDiscover User Conference. With classes covering topics like System Tools/APIs, Inventory Costing, Maintenance, and Dashboards/Business Intelligence, attendees were able to collect a vast array of ideas to apply and improve operations.
Throughout the week, those that wanted more individual attention could opt for a 1:1 session with a member of the Deacom Artisan team. This year, 21 customers took advantage of this opportunity and were able to further develop their knowledge of the software and develop strategies specific to their business.
For more photos from the #DeacomDiscover this year, check out the full photo album here.