As Deacom approaches it's 22nd Anniversary, I can't help but take a trip down memory lane – back to May 2014. At that time, I was hired as the 32nd employee in Deacom's history and we occupied a small office space in Wayne, PA. We've come a long way since then.
Upon accepting the position, I was challenged with hiring 20 new employees, increasing our headcount by more than 60%. Little did I know that we drastically underestimated the growth Deacom would see that year. Over the next six months, we added 23 team members, opened our first satellite office in Colorado, and started knocking down walls of our Wayne office to make room for new cubicles.
2015 brought an additional 30 people and we began busting at the seams of our existing office. We knew that the office space we had could not sustain our growth and didn't properly reflect our culture. It was a typical office with no pizzazz so we started exploring new options that would provide a work environment that would drive innovation and excitement.
The next year, we opened our new office – a real headquarters 3X the size of our previous one with collaboration areas, a kitchen, Ping-Pong room, and enough space to hold the 44 new hires that came onboard that year – and then some.  This included expanding my own team with our Hiring Associate, Matt Bergey, which speaks volumes to the commitment we have to keeping up with this pace.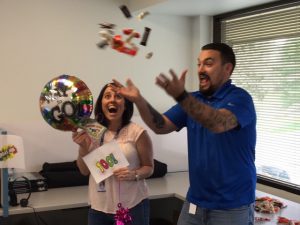 All that said, 2017 has still been my most exciting year and its only May! We have brought on 17 new hires with plans to reach 50 by year end, making this our biggest year yet. All the extra workspaces that were installed when we moved into the new office are now filled and another 32 have just been installed. When we crossed over that "100th Employee" mark we entered an entirely different ball game and are picking up speed by expanding our Colorado office by 40% this summer.
Last month, we earned a top 20 spot on Philadelphia Business Journal's Top Tech Employers list for the second year in a row and at this rate, we expect to move up that list quite substantially next year. As we enter the second half of 2017, we will be hyper-focused on growing our Data Conversion, Software Development, Business Development, and Implementation teams.
So what are we looking for?
No matter the role, we are always looking for people who are effective communicators, both written and verbally. Those individuals that possess the ability to clearly communicate with clients of varying technical knowledge are very valuable to us. We also want team members to think differently and like to push the boundaries. If the traditional method for a solution isn't as effective as it could be, we encourage you to explore a different path to improve the software and processes. We look for smart professionals with very strong deductive reasoning and critical thinking skills. Those who are self-starters and are passionate about what they do, because it is important that you strongly believe in what you are doing every day.
Data Conversion Specialist – We need you to have experience with SQL and other relationship databases. If you also have experience with exporting, cleansing, and interpreting large data sets, you'll have a good foundation for jumping right into DEACOM projects.
Software Developers – You need to be fluent in C# or another relatable programming language, and we prefer if you have experience with LINQ syntax and/or T-SQL. A solid understanding of object-oriented design principles is also important for this role. HINT: If you have a side programming project, tell us! We love to see and learn about your programming passion outside of work or school and this will help you stand out from the crowd.
 Business Development Representative – While this is technically an "Inside Sales" position, it's much more than picking up a phone and cold-calling all day. Team members must think critically to identify the best strategy for transitioning a contact into a lead. You need confidence, personality, and drive to really succeed in this role.
ERP Product Specialist/Implementation Consultant – While it is useful to have experience in Manufacturing and/or ERP Implementation, this is not required. In fact, we have hired quite a few people recently who have had a very strong understanding of business operations and business processes and they are killing it now! If you've done process mapping in the past and are a tinkerer, make sure you let that shine.
As I reflect on the growth that I've experienced here at Deacom, I can't help but think about what the next three years will bring.