Press Release –
Deacom, Inc., an Enterprise Resource Planning (ERP) provider for manufacturers and distributors, has officially launched its DEACOM DISCOVER website and opened registration for all customers. This year, the annual user conference will be held at Hilton Philadelphia Penn's Landing from April 2-4, 2019. Each year, the event exceeds expectations as DEACOM veterans and newcomers take advantage of the unique opportunity to collaborate on strategies and learn how to best apply DEACOM ERP's capabilities to drive business success.
The venue selection is not the only new thing that Deacom has in store for its attendees. This year's event will also offer customers:
Shorter, Detailed Sessions – Deacom is now offering 90-minute sessions that will dive deep into more specific topics. By providing a wider, more detailed range of topics to choose from, attendees will gain more value from their entire experience.
Topic-Focused TechLabs – Every TechLab will have a specific focus and be offered during each of the session timeslots. No matter your interest, be it Accounting, Warehousing, Reporting, or Production, there is a designated TechLab session where Deacom experts will help you navigate critical business scenarios within the DEACOM environment.
A Taste of Philadelphia – Take in the beautiful Philly skyline while sailing down the Delaware River for a chartered dinner river cruise. Conference attendees, along with Deacom team members, will come together for a can't-miss tour of the city while expanding their network and growing relationships within the DEACOM user community.
"We're excited to shake things up this year and offer a new DEACOM DISCOVER experience for customers that come year-after-year," said Scott Deakins, COO of Deacom. "By introducing shorter sessions and topic-led TechLabs, we are able to offer more than 70 different sessions over the course of three days. This allows us to tackle the specific challenges of each industry, DEACOM experience level, business focus, and management level and deliver a higher level of value for all attendees."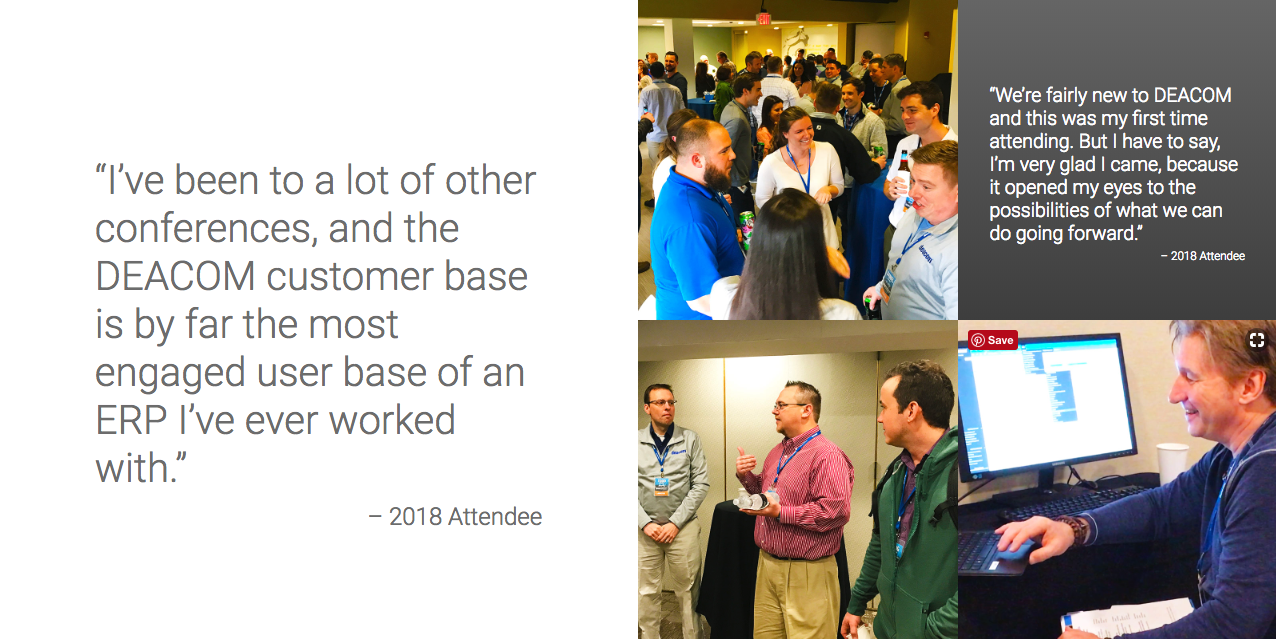 Deacom customers can register now for DEACOM DISCOVER 2019 and save with Early Bird pricing. For more information about Deacom, visit www.deacom.com or call 1-877-4-DEACOM.
### 
About Deacom, Inc.
Deacom, Inc. is the producer of DEACOM ERP, a comprehensive ERP platform with the industry's largest functional foundation. As the artisans of ERP software, Deacom builds functionality that specifically resolves the complex challenges of manufacturers and distributors. With a focus on constantly evolving the software, critical business functionality is developed by Deacom into the core platform. This provides a unique opportunity for customers to increase operational efficiency and decrease the total costs of ERP ownership. To learn more, visit deacom.com, follow on Twitter or call 1-877-4-DEACOM.