At Deacom, the term "Impact-ocracy" is used often to describe our culture. The team here strives to do more than just their day job by really making a difference in the business, our customers, and the industry as a whole.
Each month, our Founder and CEO, Jay Deakins, acknowledges one stand-out Artisan during his State-of-Deacom talk. Most recently, Jay awarded the custom bobblehead trophy to Nina Zecca, a Business Development Representative who joined the team in March 2016.
"As we continue to shift our sales focus towards attracting larger customers, Nina has been instrumental in helping us redesign our Business Development efforts," said Deakins. "The BD team has grown significantly in the past few months and she has taken the initiative to bring those new folks up to speed while still pushing hard to exceed her day-to-day responsibilities."
So who is this new Artisan taking the spotlight this month?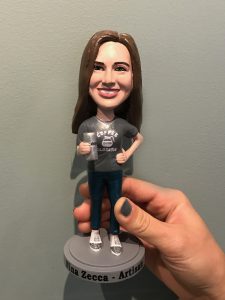 Describe your role at Deacom?
As a Business Development Representative, I'm responsible for building a pipeline of qualified Deacom prospects. I work hand-in-hand with our Senior Sales Executives by developing relationships with prospects and generating new opportunities for them to pursue.
When and how did you come to work at Deacom?
I started working at Deacom in the spring of 2016. I was searching for a sales role in the software space. Ironically, I grew up less than ten minutes from our headquarters and came across this position on LinkedIn. I was impressed by Deacom's unique approach to ERP, and attracted to the company's culture and growth. The direction that the company was headed seemed very exciting to me, and luckily I was right!
What do you enjoy most about working at Deacom? Why?
The people are the best part about working at Deacom. We truly have a work hard, play hard environment and I enjoy working alongside people who are both intelligent and motivating.
What has been your favorite project at Deacom thus far? Why?
I can't say I have a specific favorite. The way the sales cycle unfolds is different for every company.  It's been really interesting to see how the process goes with each individual prospect, and it always allows me to learn something new.
What is your favorite piece of technology?
I think it's most exciting to see how quickly and aggressively technology progresses. I remember the very first "computer" we had at my house being a touchscreen monitor that was strictly for AOL (throwing it back to dial-up connection). Now, I can access emails, phone calls, and text messages on my watch instantaneously. I can't imagine how we'll be getting information another ten years from now.
What do you like to do when you're not at the office?
I love cooking and trying new restaurants around Philadelphia. I'm very passionate about health and wellness, and spin at SoulCycle most days before or after work. Otherwise, I enjoy spending time with my family and friends.
What is something that people would be surprised to learn about you?
I'm an avid collector of sneakers and sunglasses.
If you are holding or wearing anything specific for your bobblehead, can you explain what it means to you?
My shirt says "Coffee is for Closers," which is a quote from the movie Glengarry Glen Ross. It's a classic, funny movie for anyone in the sales industry, and the shirt was given to me as a gift when my first deal closed.
"Congratulations, Nina. We appreciate everything you do."
– Jay Deakins, Founder and CEO of Deacom
Read all of our Artisan Spotlights right here on the Deacom blog.