Drumroll please… And our newest Artisan of the Month is:
Matt Riesenbach, ERP Product Specialist!
Matt has proven to be one of the best examples of a team player. Always willing to lend a helping hand to get projects off the ground or keep on track, no task is too small or difficult for Matt to take on.
Here is what some of his teammates had to say about his work ethic:
Matt took initiative and taught himself SQL, FoxPro, some C#, and a variety of other technical skills since starting at Deacom.

He constantly volunteers his time to help with projects and initiatives that are not his direct responsibility. This includes API specs, EDIs, and random customer issues.

Matt always goes

 the extra mile for the customer to keep projects on schedule and moving forward.

He's not afraid to question the status quo to come up with new and better ways of doing any and everything.

Excellent closer. Matt is one of the first people chosen to take on escalated challenges due to his results-oriented mindset.
So who is Matt? Check out his Artisan of the Month Q&A to see why his is such a big part of the company: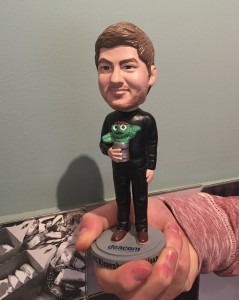 Describe your role at Deacom?
MR: In my mind, I am not set in one role at Deacom.  I have the title of ERP Product Specialist but I am more of a Utility Player and happy to take on whatever is needed.  I have a couple of implementation projects, some EDI projects, API projects and occasionally I will do some external programs.  My role is also to help out the other team members whenever it is needed, whether it's a simple question or a report to design. Really, whatever needs to get done, I'm happy to do.
When and how did you come to work at Deacom?
MR: I started at Deacom in January 2015 working in the Quality Assurance (QA) department testing the software.  I later moved into a support role and then the Product Specialist role.  I have definitely experienced many different aspects of DEACOM and worked with most of the functionality during my time in Support/QA.  I could not be happier about my decision to work at Deacom. I have fully bought into the direction of the software's development and I look forward to seeing where the company goes in the next few years.
What do you enjoy most about working at Deacom?
MR: I enjoy being able to work with the same software every day while still learning something new about it.  With all the enhancements that are occurring, there is always a new feature to discover while using DEACOM. I also enjoy the fact that I am put into situations that use my strengths very well, such as working on tasks that just need to get completed and cross the finish line.  Working in SQL is another fun part of the job as I'm able to manipulate data in every way possible and seeing the output is always interesting.
What has been your favorite project at Deacom so far? Why?
MR: It's hard to nail down exactly what my favorite project has been.  I have worked on a couple implementation projects where I was able to improve many processes for our customers and those are the ones that really stand out.  Plus, I always enjoy working with Chris Conroy and hearing his early morning, high-pitched voice (you're welcome, Chris!).  I have also had the opportunity to write some pretty interesting queries for small projects which I always enjoy doing.
What excites you most about the technology industry?
MR: All technology is exciting to me. I have always been interested in the new technology that is coming out and I always want to get my hands on the newest devices.  What excites me the most is that there are endless possibilities with technology and depending upon the resources available, there is an opportunity to create something new every day.
What do you like to do when you're not at the office?
MR: I got a puppy a year ago so I am always spending time with my dog and girlfriend at our apartment.  I definitely watch a lot of Netflix, go to downtown Philadelphia to some nice restaurants, watch any and all sports, and attend games in Philadelphia as much as possible. 
 What is something that people would be surprised to learn about you?
MR: I initially majored in Psychology in college but I quickly switched to Business Information Systems as I've always been interested in technology and wanted to put my knowledge of it to better use.
Matt is an Artisan in every aspect!  He brings a helpful and inquisitive attitude to work every day.  He will question the status quo if he sees a new and better way of doing any and everything.  On his own initiative, Matt taught himself SQL, FoxPro, some C# and other technical skills, which enable him to cover almost any role if needed.   And his wry sense of humor keeps us all on our toes. Congrats Matt!

– Carol Martin, Deacom's Director of Human Resources