We have a pretty incredible team – there, I said it! And each month we showcase the incredible accomplishments of Artisan standouts. This month, we celebrate Maggie Franks, one of our Data Conversion Specialists.
In a recent talk with the team, Deacom President and CEO, Jay Deakins recognized how valuable our entire Data Conversion team is by noting that "everybody in our data conversion group deserves a medal."
Maggie continues to go above and beyond her typical job description to make both our customers and her team members successful. "All of our customers come to us with data in multiple systems and it is an extreme challenge to take all that information and normalize it into the DEACOM system," said Deakins. "Maggie has done an awesome job at that. She always keeps an even keel while under extreme pressures and does what she needs to do to make the customer comfortable. She has also been taking time during her day to train new employees and modify the data tool to make the process much easier moving forward."
Maggie has mastered the very challenging process of data conversion which is critical to a smooth Go-Live. Here is what you need to know about Maggie:
Here is what you need to know about Maggie: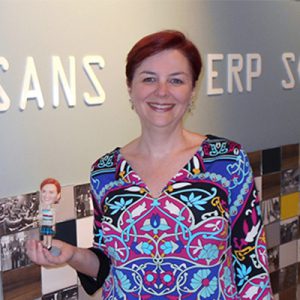 Describe your role at Deacom?
In my role as Data Conversion Specialist, I work very closely with customers to convert and transfer their data, which often arrives to us in Excel, into the DEACOM system.
When and how did you come to work at Deacom?
Before Deacom, I spent a lot of time on the other end of the spectrum. My company was implementing a new computer system and I found the entire process really interesting. When Deacom's Hiring Manager, Melissa Richardson, reached out to me about the position, I jumped at it. I thought it would be cool to be on the software side and help customers do what I had already lived. It has given me a unique perspective on software implementation and allows me to relate more with what the customers are going through.
What do you enjoy most about working at Deacom? Why?
I most enjoy the interaction with my customers and learning about the different types of businesses that we work with. 
What has been your favorite project at Deacom thus far? Why?
I can't pick just one because I like different aspects of each customer I work with.  There are challenges that need to be overcome with each customer and it is fun working out how to do that.
What is your favorite piece of technology?
My favorite electronic device is my Kindle. I love to read and really enjoy the ability to carry so many books with me everywhere I go. I have a Kindle Paperwhite so I can read outside on nice days without any problem. I love how technology is always evolving and improving.
What do you like to do when you're not at the office?
When I'm not spending time with family, friends, and my cats, I like to try new things. Some classes I have taken are tap dance, guitar, and a handy ma'am class to learn how to do small projects around my house. My most recent project was upcycling barstools for my kitchen which turned out great!
What is something that people would be surprised to learn about you?
I was in the Peace Corps where I lived in Jamaica for two years and more recently I went to Guatemala for a week with Habitat for Humanity. I'm currently in the very early stages of planning my next Habitat for Humanity trip which I hope to go on with my niece.
If you are holding or wearing anything specific for your bobblehead, can you explain what it means to you?
I have a WHYY (the local NPR station) tea cup. My customers know that I drink tea all day, and many of them will ask if it is time for a tea break when there is a long import profile running.
"We keep plenty of tea on hand for Maggie.  She brings her bright smile and warm personality to the office every day and we enjoy hearing about her latest volunteer adventure or which books she recommends for our Book Club.  Maggie is always willing to put in the extra time and effort it takes to make our customer's transition to DEACOM a seamless one. She's a true data Artisan!"

– Carol Martin, Director of Human Resources