In 2015, the US Drug Supply Chain Security Act (DSCSA) was passed by congress which mandates manufacturers to assign unique codes to their finished drug products all the way down to the unit level. This is in an effort to improve the ability to electronically track and trace prescription drugs from manufacturing to patient. Manufacturers must consider a number of factors by the time the DSCSA comes into full force in 2023.
According to ISA-95 standards, there are five main levels of technology necessary for an effective serialization solution. It can vary how these levels relate and communicate to each other based on the solution and provider.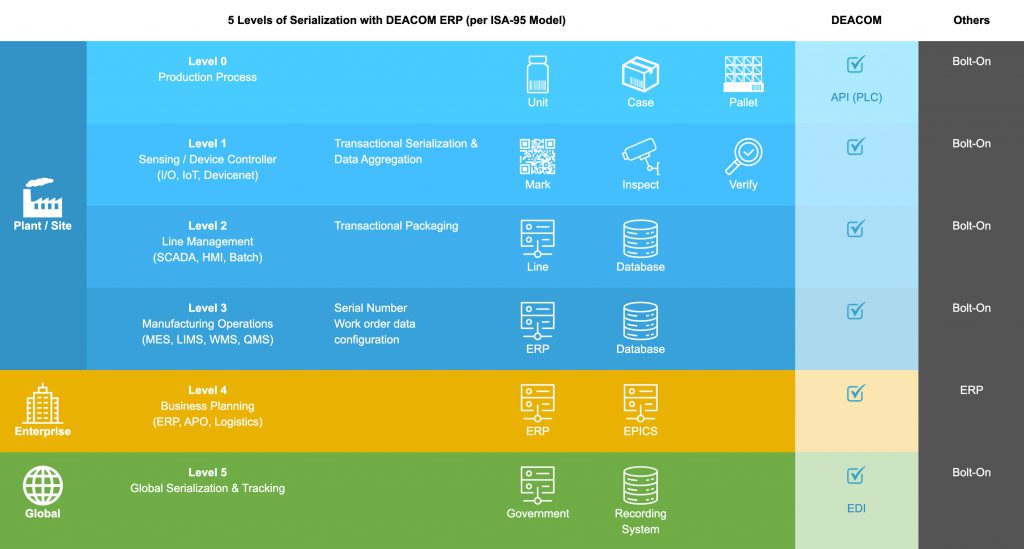 DEACOM ERP provides the ability for manufacturers and distributors to leverage unlimited layers of serialization to meet regulatory and customer requirements. With API technology, the ERP system can help achieve serialization at all five levels by efficiently communicating (i.e. EPICS standards) with production hardware and global networks.
In a recent video, I demonstrate DEACOM ERP's specific serialization functionality and show exactly how DEACOM users can adhere to these new regulations from a single software system.