If you walk through our office, you won't see people who come to work simply to clock-in and clock-out each day. You'll find a team of passionate individuals working together and encouraging one another to make a difference – not just for Deacom, but also our customers' businesses and the industry. We call it "Impact-ocracy" and it is at the heart of our culture.
It's always exciting when our CEO, Jay Deakins, closes out a State of Deacom talk by recognizing a stand-out artisan that has gone above and beyond what is expected of them. This is certainly the case for Erik Smith, Senior Software Developer and newest artisan to take the spotlight.
Not long after joining the team, Erik realized a great opportunity to create a more efficient mobile development process. He recently learned about, and experimented with, a new cross-platform solution called Xamarin which creates a faster development process and delivers a more consistent UX between mobile devices. Since the solution is written in C#, every member of Deacom's development team could program in it rather than relying on a dedicated team to evolve the solution. Since then, Erik has been working tirelessly to rewrite Deacom's mobile applications with this technology and create a more scalable solution.
"Erik played a significant role in updating our mobile platform with Xamarin and rolling it out across our software," said Jay Deakins, President and CEO of Deacom. "As we all know, technology changes very quickly and Xamarin gives us the ability to adapt quickly across different mobile platforms. He is great at taking complex things and creating simplified solutions within our software. If you want to push your company growth forward, it's really great to have someone who is forward-thinking like him on your team."
So, who is Erik Smith?
Describe your role at Deacom?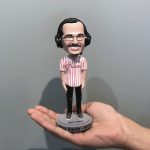 I am a Senior Developer at Deacom. Along with developing new functionality for our ERP system, I am leading our mobile applications rewrite for our mobile and WMS systems. I am also the first one to crack a joke at the expense of myself.
When and how did you come to work at Deacom?
I joined the Deacom team in October of 2016. I previously worked in the travel industry on a travel ERP software where the development was Web-focused. I was really drawn to the laid-back atmosphere Deacom showed during the interview process, and moving to a more modern development environment… plus they liked me!
What do you enjoy most about working at Deacom?
I really enjoy the collaborative yet quiet environment. It is wonderful having both the chance to talk out a problem with someone or just throw on headphones and code all day.
What has been your favorite project at Deacom thus far?
Easily my favorite project to work on was the Deacom mobile application rewrite. When I started at Deacom, I saw a chance for us to upgrade our existing mobile application to a more unified system. I was able to take the project from start to finish, and even present it at the User Conference to our customers this past April. It allowed me to really improve my skills as a mobile developer as well as gave us the opportunity to get more people involved in the mobile development world that might not have been otherwise.
What excites you most about the technology industry?
The fact that the tech industry is always evolving. I think of the technology industry like the medical industry. Things are always changing and there is always a new, big thing coming right around the corner. This creates some truly impressive technological feats and some healthy competition. I mean who thought landing on Mars would be achievable anytime soon?
Being in the tech industry is like never leaving school. You're always learning and always needing to adapt; it keeps you on your toes at all points of your career.
What do you like to do when you're not at the office?
When I'm not in the office, I'm normally still programming on side projects or dabbling in the newest tech out there. I'm also an avid gamer, which is what got me into programming in the first place. When I'm not at a computer though, you can catch me watching or being at a Phillies game, or outside chasing my dogs around realizing I'm totally out of shape.
What is something that people would be surprised to learn about you?
I played Call of Duty competitively between 2008 – 2009.
If you are holding or wearing anything specific for your bobblehead, can you explain what it means to you?
I'm wearing my gaming headset which signifies my love for gaming since it's what got me into programming. Of course, I'm also wearing my Cole Hamels Phillies jersey because he is not only my favorite ballplayer, but I also had to represent my favorite Philly sports team!
Click here to check out the other artisans have been in the spotlight!