The Artisan Spotlight is a chance to showcase some of Deacom's most impactful team members. Today, Cameron Taylor takes the Artisan Spotlight as one of our Lead Application Developers!
In a recent "State of Deacom" address, Jay Deakins, Deacom Founder and CEO, took a few minutes to talk about the impact that this artisan has made on Deacom's advancement in the four short years that he was been with the company. Deacom's biggest project to date was the development and conversion to a .net framework and Cameron took a key role in that movement bringing Deacom to where we are today.
Want to learn more about this Artisan?
Describe your role at Deacom?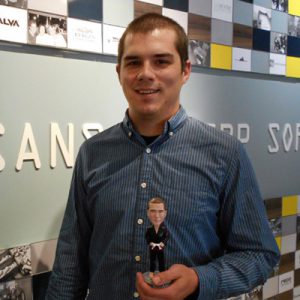 I am the Lead Application Developer and work with a few teams to enhance, debug, optimize, and provide testing for functionality in DEACOM. 
When and how did you come to work at Deacom?
I left an IT position with a large moving company in Memphis, TN about 4 years ago to join Deacom.  One of the long-running dreams of mine was to work in the software industry. I have been fascinated with computers, and specifically software, since I was really young.  I remember playing old games on consoles or computers and wondering what it would take to make a game or software.  I thought it was wonderful how we can solve so many problems with the same machine, a computer, by writing software for it.  We can entertain ourselves, perform complex calculations, or access a wealth of information almost instantaneously.
What do you enjoy most about working at Deacom? Why?
Working with principles of object oriented programming to improve our software and benefit our customers is often both challenging and rewarding.
What has been your favorite project at Deacom? Why?
It's really hard to pick one.  I've been involved in a few projects that our customers were excited for, which provides a nice sense of purpose. 
What excites you most about the technology industry?
I feel as though it is the pinnacle of human innovation thus far.  We have created ways to solve problems and further benefit humanity with almost endless possibilities.
What do you like to do when you're not at the office?
I'm an avid disc golfer.  I also train in jujitsu, hike, backpack, and occasionally play video games.
What is something that people would be surprised to learn about you?
I had a cameo in a music video for the rap artist Al Kapone. At one point in my life I was pursuing a career in the music industry.  My music business teacher in college was very involved in the music scene in Memphis and got volunteers to help with the video.  Al Kapone and my teacher, firmly believed in and preached paying things forward so they tried to involve as many local talents as they could. It was really fun. I have also played a few songs on live TV with one of my bands around that same time and recorded at Royal Studios with Willie Mitchell, Jr. This is the same studio where Al Green recorded all of his albums and John Mayer did his first album.
If you are holding or wearing anything specific for your bobblehead, can you explain what it means to you?
My jujitsu gi.  The sport has had a very positive impact on my life, especially in rough times.
"Cam is the epitome of Deacom's Work Hard, Play Hard philosophy. He is passionate about his work at Deacom, and has a variety of passions that he pursues outside of the office as well.  We look forward to playing Can Jam with Cam this summer!"

– Carol Martin, Deacom's Director of Human Resources