As 2018 comes to an end, we want to announce the last Artisan to take the spotlight this year. Please join me in congratulating Alex Stetson, ERP Product Specialist. Alex progressed her career at Deacom pretty quickly moving from Technical Specialist to ERP Product Specialist, and now earning this recognition in just 15 months.
"Alex jumped into an implementation at the end of the process and has now become their go-to person for this group," said Jay Deakins, Founder and CEO of Deacom. "She is a smart, hardworking person that truly cares about the work she does and the people she works with, and she always has a smile on her face. On top of it all, she was a strong competitor in last year's wing bowl and that's not an easy thing to do."
Disclaimer: Alex had to forgo this year's Wing Bowl because she was getting married the next week and was focused on healthy eating rather than gluttony.
"Alex is the epitome of what I consider the Deacom culture to be," continued Deakins.
Here is what you need to know about this Artisan: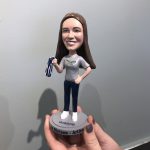 Describe your role at Deacom?
I am an ERP Product Specialist at Deacom. Right now, I am training a couple different customers on how to use the software and helping them configure DEACOM ERP to fit their individual needs. 
 When and how did you come to work at Deacom?
I started working at Deacom in August 2017 as a Technical Specialist. I studied Industrial Engineering at Penn State and was captivated by the technology behind manufacturing. Deacom was exactly what I was looking for after graduation, combining my actual degree and my interest in problem-solving.
 What do you enjoy most about working at Deacom?
I love that every day brings a new challenge. I know that on a daily basis I will learn something new from the software or the people that work here. I have a thirst for knowledge, so I genuinely look forward to what each day will bring.
What has been your favorite project at Deacom thus far?
I felt that the Watson Standard project was an unbelievable learning experience for me. Not only did I get to work with Chris Conroy (one of our Solutions Architects based in Colorado), who has infinite knowledge of the system, but it was also a great opportunity to see our team's work come to fruition. There were so many people from Deacom involved and willing to go the extra mile to get them live. It was awesome to see the support from all over.  
What excites you most about the technology industry?
Technology practically runs the world, but there is so much about it that we have yet to establish. The capabilities are almost infinite. I personally enjoy looking at anything and thinking about all the different technologies that were required to get it in my hands. 
What do you like to do when you're not at the office?
I live and die for Penn State football and the Eagles. In the summer I spend all my time in Maryland with my family and friends. I also really enjoy traveling and have a goal to visit every continent. If I could, I would travel for the rest of my life.
 What is something that people would be surprised to learn about you?
I have been to six out of seven continents (working on Antarctica) and have been bungee jumping.  
Explain what your bobblehead is holding.
I'm holding a Penn state pom-pom from one of the games I attended when I was a student.  My entire family went to Penn State, so naturally, I was brainwashed from the start. I worked my entire life to get into that college, and it helped so much in shaping who I am as a person.