DEACOM DISCOVER is headed to Philly and there is only one week left to secure your spot with Early Bird pricing! In past years, the conference has been held outside of the city in Valley Forge. Staying close to Deacom's headquarters provided great opportunities for all of our employees to get involved in the conference. However, we wanted to shake things up a bit in 2019 and Philadelphia was calling our name.
The 14th annual user conference will be hosted at the Hilton Penn's Landing from April 2-4, 2019. With spectacular waterfront views, the hotel is just a short walk to some of Philly's biggest attractions and hottest areas like Old City and South Street.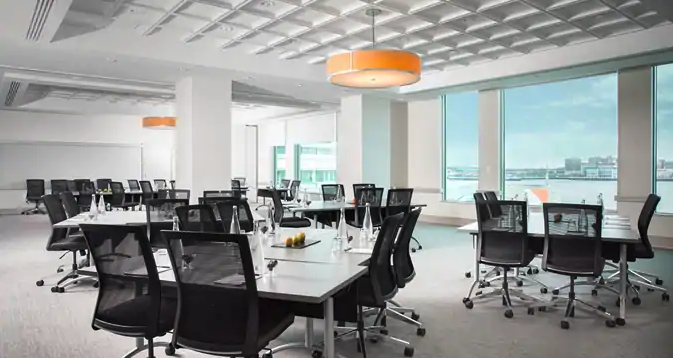 Join your peers in the manufacturing and distribution industries to gain insight into improving day-to-day operations with DEACOM ERP. No matter if you are talking to a CIO from a different industry, an in-house Deacom expert, or a partner to your company, the conversations are sure to spark innovative ideas and strategies for you to bring back to the office. And when you're not working hard, take time to explore all that our beautiful city has to offer.
There are so many reasons why we wanted to take the conference into the city. Here are just a few:
The Convenience – Not only is the conference venue an ideal location in the city, but it is only about a 15-minute drive from Philadelphia International Airport. Since it has been named the 5th most walkable city in the US, exploring the city is incredibly simple.
The Food – Philly's not just about cheesesteaks and soft pretzels – though they are delicious! It also has some of the best restaurants in the country starring big names like Stephen Starr, Marc Vetri, and Michael Solomonov. However, my favorites are the hidden BYOB gems tucked away on side streets and alleyways which any foodie will fall in love with.
The History – As the first US Capital, Philadelphia is home to the iconic Liberty Bell and Independence Hall, not to mention many other historic houses, buildings, and museums scattered throughout the city. If you're a history buff, it's a must-visit city!
The Beer – It's no secret that our Artisans are fans of craft brews, so of course we are partial to Philly's beer scene. The Hilton Penn's Landing is just a few minutes to some of the city's best spots including 2nd Story Brewing, Independence Beer Garden, and Old City Beer Garden. Other gold mines are just a short Uber away.
The Sports – There is nothing like watching a sporting event in Philly. If you saw the city's reaction to our SuperBowl LII win (Fly, Eagles, Fly), you know what I'm talking about. Depending on how long you plan to stay in the area, you might get the chance to see a Phillies, Flyers, or 76ers game down at the stadiums.
We are very excited to share all that Philly has to offer with our customers and hope that you can join us in April.
So what are you waiting for?! Register now and save up to $300 per registration!